Jack Liebeck: flying season start and new single release
7 October 2022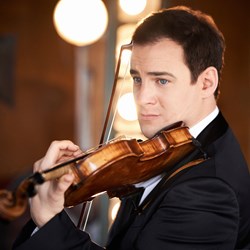 Following a record-breaking first festival year as Artistic Director of the Australian Festival of Chamber Music, Jack Liebeck releases new single 'The Lark Ascending' (arr. Paul Drayton) with VOCES8 on 7 October, and joins them celebrating Vaughan Williams' 150th anniversary in a special concert 'LIVE From London The Lost Birds' which features a new adaptation of The Lark Ascending for choir, orchestra and soloist on 15 October.
Jack's first Australian Festival of Chamber Music exceeded audience development and ticket targets and supported new works, new premieres and artist debuts. Over 10 days, 30 concerts, 7 special events, 5 free events and 4 live broadcasts the stats were as follows:
35 musicians including 6 international, 28 Australian and 1 First Nations artists attended 218 rehearsals and performed 133 works, including from 7 female composers, across 59 hours of programming
2 international musicians made their Australian debut plus 9 more made their AFCM debut.
3 World Premieres and 3 original works were commissioned
Total attendance exceeded 21,000 over the 10 days, surpassing 2019 Festival attendance by 8%
Box office income achieved 100% of budget, surpassing the 2019 Festival by 5%
Over 11,500 tickets were sold to 28 AFCM concerts including 5 sold out events
Over 200 Festival Subscribers (Gold and Gold Plus) enjoyed full Festival Passes securing priority seating to all events.
4 concerts were broadcast live around the world to an audience of over 1300
The new Festival Garden had over 8,800 people through the gates with 33 performances on 2 stages over 8 days by 684 performers including 7 First Nations performers
To learn more about the festival or watch for next year's programme visit the AFCM website.
Jack returned to the UK to support the Royal Academy of Music's Bicentenary celebrations, most recently in a concert with James Ehnes at the Wigmore Hall, and to begin his season with a new single release, 'The Lark Ascending' in a vocal arrangement by Paul Drayton. Drayton's vocal arrangement of the much-loved Classic FM "Hall of Fame" No. 1 weaves George Meredith's beautiful text back and forth, gilding Jack's "beguiling silvery tone" (Gramophone). Joined by renowned vocal ensemble VOCES8, the single is released by VOCES8 Records on Friday 7 October and is one of two projects which mark Vaughan Williams' 150th anniversary and the start of several new programme collaborations with the ensemble.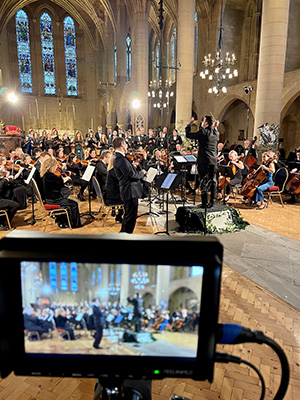 Streamed on 15 October, LIVE From London The Lost Birds features the concert premiere of Christopher Tin's 'The Lost Birds'. This symphonic elegy sits alongside the premiere of a new adaptation of 'The Lark Ascending' for choir, orchestra and soloist, and a new arrangement of Pulitzer Prize-winning composer Caroline Shaw's 'and the swallow' which will include a violin solo in response to 'The Lark Ascending'. If you'd like to purchase the single of 'The Lark Ascending' or watch LIVE From London The Lost Birds please visit LIVE From London.
Jack returns to the Wigmore Hall for a new folksong programme, 'How cold the wind doth blow', with Mary Bevan, Nicky Spence and Will Vann in December and his Salieca Piano Trio (Jack, Amandine Savary and Thomas Carroll) makes its debut there in December 2024. Jack returns to the studio to record Vaughan Williams Concerto Accademico for Orchid Classics this Autumn, and next Summer records an album (and recital project) with Daniel Grimwood to celebrate Royal Academy of Music professors and film composers William Alwyn and Doreen Carwithen. Jack makes his debut at Savannah Music Festival next Spring and looking to highlights further ahead, he makes a guest appearance on Carolyn Sampson's 100th album release.
To book Jack Liebeck, or to talk about ideas, please call Libby Percival. For more information about Jack please visit his website or click here; you can also follow him on Twitter.