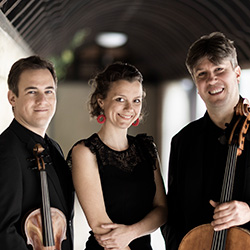 full of colour and underpinned by a clear musical intelligence
The Strad
keeps the listener in a world of beauty, serenity, fantasy and greatness
Diapason
Salieca Piano Trio
Piano Trio
With around fifty years of piano trio playing experience between them, Amandine Savary, Jack Liebeck, and Thomas Carroll's Salieca Piano Trio performed as a trio for the first time in 2019. The three soloists are long-term collaborators and value chamber music equally alongside their solo careers. All three are engaging communicators, performers and educators and the breadth of their musical experience and cultural heritage is represented in diverse and engaging programming, often including other art-forms and influences. Each artist has performed at the highest level internationally and on the world's leading concert stages. The formation of the Salieca Piano Trio is the result of a burning passion to explore the trio repertoire together, and is borne of great friendship and mutual respect. Recent engagements for the Trio have included Théâtre Le Reflet in Switzerland, Oxford May Music and Machynlleth Festivals, and Wigmore Hall.
"Amandine Savary captures and retains attention through the power of a musical concentration that keeps the listener in a world of beauty, serenity, fantasy and greatness." (Diapason)
"His playing is virtually flawless in its technical ease, scintillating articulateness and purity of tone." (Gramophone, Jack Liebeck)
"authority and passion, with an unerring sense of direction, full of colour and underpinned by a clear musical intelligence" (The Strad, Thomas Carroll)
For print and to read more about Amandine Savary, Jack Liebeck and Thomas Carroll's solo careers please download the trio's full biography.
This biography is for information only, and should not be re-printed. Please use the link below to download the version for concert programmes.
Download Biography 2023-24 (.docx)