Rachel Podger wins BBC Music Magazine Recording of the Year Award & new International appointments unveiled
20 April 2023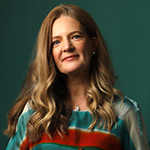 In a ceremony at Kings Place on 19 April, Rachel Podger won both the BBC Music Magazine 2023 Recording of the Year Award and the Instrumental Award for her acclaimed solo recital album, Tutta Sola, on Channel Classics. These awards are particularly special since one was voted for by the public from BBC Music Magazine's shortlist of three recordings, and the other by respected peers - news of these wins following shortly after Rachel's recital tour of the album across the UK and USA.
Charlotte Smith, editor of BBC Music Magazine: "Tutta Sola presents a fascinating snapshot of rarely performed violin repertoire. The product of intense research and collaboration, the album places Bach in much-needed context, recognising the great skill and innovation of his forebears and contemporaries."
Julian Haylock's 5* review of Tutta Sola for BBC Music Magazine noted: "the most striking aspects of Podger's playing throughout this recital (compared to most 20th-century 'golden-agers'), is her enhanced range of tone and articulation, her vastly more flexible use of dynamics and phrasing and her temporal suppleness… Podger plays every piece with an explorative sense of excited discovery, playfully pointing up the various correspondences with Bach's matchless works."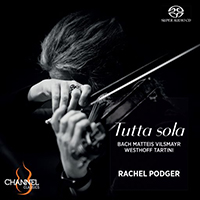 Rachel's solo album, Guardian Angel, won the BBC Music Magazine Instrumental Award in 2014, and her recording of Vivaldi L'Estro Armonico Concertos won the Concerto Award in 2016 - she is particularly delighted that Tutta Sola joins the list of winners. Rachel would like to thank all who voted for her, and the teams at BBC Music Magazine, Channel Classics (especially recording engineer Jared Sacks and producer Jonathan Freeman-Attwood), and Outhere Music for their kindness and support. If you'd like to read the full award citation, please visit BBC Music Magazine's award news.
Simultaneously, we are delighted to share news of Rachel's appointment as Principal Guest Director of Tafelmusik, beginning in autumn 2024. Based in Toronto, Tafelmusik is an internationally renowned period orchestra, revered for its dynamic, inspiring performances and award-winning recordings and films.
"We are thrilled to welcome renowned violinist Rachel Podger as Tafelmusik's Principal Guest Director for our 24-25 and 25-26 seasons. Rachel will join us for several concerts each season, as well as for tours and recordings. Our recent concerts with her were electrifying, sensitive and virtuosic, and created magical experiences for musicians and audience alike. Rachel is one of today's great inspiring artists and we cannot wait to collaborate more with her!" (Tafelmusik Artistic Co-Directors: Brandon Chui, Dominic Teresi and Cristina Zacharias)
Following her recent performances with the group (which you can watch below), Rachel is similarly delighted and comments: "'La Passione', my recent project with Tafelmusik felt like a homecoming - exciting yet easy, a shared musical language and a collective fount of creativity and passionate aspiration amongst a team of friends. To then learn that I had been gifted the opportunity of a closer relationship with an ensemble I have admired for so many years, was/is a dream come true. I can't wait to return and share new musical adventures with the ensemble and its dedicated family of followers." (Rachel Podger). You can access full information about Rachel's appointment and Tafelmusik's upcoming news on the group's website.
Equally exciting is the news that Rachel will become Kings Place's Artist in Focus for 23/24 with her own ensemble Brecon Baroque. A leading interpreter of the Baroque and Classical, Rachel will perform three concerts as part of her residency there, exploring well-known masterpieces, rarities and new arrangements including repertoire from Tutta Sola, and her beloved J.S. Bach.
Helen Wallace, Artistic and Executive Director of Kings Place, said: "Rachel Podger has been an electrifying presence on the international Baroque scene for more than two decades, and has lit up Kings Place with indelible performances since it opened. In her hands, the miraculous, near-mystical power of the violin is fully realised. So we are particularly thrilled that she will be Artist in Focus for the 23/24 season."
Rachel Podger replies: "I've felt privileged to enjoy many visits to Kings Place's wonderful acoustic and friendly, engaged audiences over the years. To have the opportunity of showcasing some of my greatest musical loves in London during the '23/'24 season is a real delight. Programmes include my beloved solo Bach, favourite cantatas featuring Zoë Brookshaw and Ciara Hendrick ('From Darkness to Light'), and my ensemble Brecon Baroque who will be celebrating our new album release by giving 'The Goldberg Variations Reimagined' its London concert premiere in December. There is a lot to explore and celebrate together - please join us."
Rachel's three programmes at Kings Place commence with Tutta Sola on 21 September as part of the venue's 'Master Series', before she brings Brecon Baroque to join her for two ensemble projects, 'The Goldberg Variations Reimagined' in December and 'From Darkness to Light' as a prelude to Holy Week and part of Kings Place's annual Bach Weekend in March 2024. To read more about Rachel's residency at the venue please visit Kings Place's website.
Rachel is currently in the second year of a three-year Associate Artist collaboration with Lichfield Festival, the festival will open its booking on 25 April and includes Rachel's appearance on Sunday July 9th for a duo recital with Daniele Caminiti. Rachel will return to open the Festival's 2024 season next summer.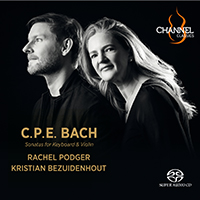 Recording news this month includes two new album releases on Channel Classics. C.P.E Bach: Sonatas for Keyboard and Violin unites Rachel with one of today's most notable and in demand keyboardists, friend and star Baroque soloist Kristian Bezuidenhout. The album will be released on 28 April and includes C.P.E. Bach's Sonatas for Keyboard & Violin in C Minor, B Minor, D Major and G Minor.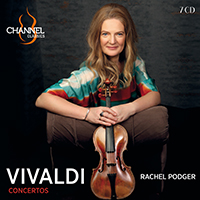 The 7CD box-set of Rachel's multi award-winning Vivaldi Concertos is available as a collection for the first time, to mark the 20th anniversary of the release of La Stravaganza (2003). The individual recordings (2003-2018) have won many awards and were each met with worldwide acclaim including Gramophone & BBC Music Magazine awards and Diapason d'Ors. Featuring Arte Dei Suonatori, Holland Baroque Society and Rachel's own ensemble, Brecon Baroque, Vivaldi Concertos will be released on 21 April and will appear as Classic FM's Album of the Weekend this coming weekend.
Looking ahead, on 20 October Channel Classics will release the The Goldberg Variations Reimagined, an adventurous and insightful new arrangement of Bach's 'Goldberg Variations' by Chad Kelly. The album will coincide with its performance at Rachel's own Brecon Baroque Festival and its London premiere later in the year as part of Rachel's Artist in Focus at Kings Place. To learn more about Rachel's upcoming releases and to purchase copies, please visit Channel Classics or the album links above.
Rachel Podger and her ensemble Brecon Baroque are newly supported by their own Foundation chaired by Stefan Paetke, The Rachel Podger Foundation. If you'd like to support Rachel's recordings, concerts and education work, or simply find out more, please contact us.
To book Rachel Podger, or to talk about ideas, please call Libby Percival or Desireé Ayton. For more information about Rachel please visit her website or click here; you can also follow her on Facebook, Instagram and Twitter.