Rachel Podger wins Opus Klassik for album Tutta Sola
9 October 2023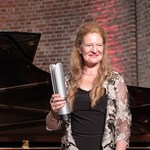 In a ceremony in Berlin on 7 & 8 October, Rachel Podger was awarded the Opus Klassik 2023 Solo Instrumental award for Tutta Sola. Released in 2022, the album has already won two BBC Music Magazine Awards (Recording of the Year, Instrumental Solo) and been a finalist in the Gramophone Awards. This beautifully intimate recording showcases an incredible collection of solo violin works in many styles from twelve European composers who all lived to celebrate New Year's Eve in 1700 and, as per her philosophy that just about everything 'starts with Bach', so does this album. Tutta Sola begins with the extraordinary world premiere recording of J.S. Bach's famous organ Toccata and Fugue in a specially commissioned arrangement by Chad Kelly for solo violin in A minor. The concert of the album was premiered in the USA at The Library of Congress, Washington and at both The Barbican in London and Kings Place where Rachel is currently Artist in Focus for 23/24.
Rachel Podger: "When you're recording a solo album, you're in a space, with your instrument, the composer, microphones, and there's no one else there. It's really special and hard to describe. It feels like an honor in a way, to fill that space with my violin. During the recording sessions of 'Tutta Sola" it happened to me multiple times that my dear producer Jonathan Freeman-Attwood or recording engineer Jared Sacks of Channel Classics would suddenly say something over the speaker, and I would be slightly shocked - "Oh right! You are here too!" - from having been in such deep concentration. I felt so close to the composers. There's nothing quite like it, and it's a privilege."
Please listen to Tutta Sola and read more about Tutta Sola here. To learn more about Rachel Podger please contact us, or follow her on Facebook, Twitter or Instagram.