I Fagiolini releases world premiere recording of Benevoli: Missa Tu Es Petrus
6 October 2023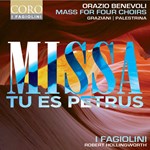 Released on CORO on Friday 6 October, I Fagiolini's new recording 'Missa Tu Es Petrus', presents the world premiere recording of the Orazio Benevoli's mass for four choirs alongside works by Palestrina and Graziani – the new album is already receiving outstanding reviews.
Based on Palestrina's famous motet and perhaps written for the newly finished basilica of St Peter in Rome, Benevoli's Missa Tu es Petrus (Mass for Four Choirs) is here recorded for the first time and appears alongside four more premiere recordings of solo motets of his contemporary Bonifazio Graziani. The Scotsman described the recording as "ravishing" and awarded it 5 stars, in addition Gramophone not only declared that it "Stuns the ears" but also that the recording is "Capturing that which my words can only gesture towards: musical magic.". Europadisc also heaped praise on the recording: "The entire production should appeal not just to connoisseurs of the opulent polychoral, but to all lovers of quality choral singing, and marks a terrific start to what promises to be an enthralling recording partnership".
I Fagiolini has recently announced a new recording initiative with CORO to release eight albums on the label over the next four years, building up to I Fagiolini's 40th anniversary in 2026 (and founder-director Robert Hollingworth's 60th birthday). The new collaboration introduces five new albums: three world premiere albums of multi-choir Masses by Orazio Benevoli (in new performance editions by Robert Hollingworth); a unique low pitch recording (as indicated by the composer) of Tomás Luis de Victoria's Tenebrae Responsories; and a 40th anniversary album of works by Monteverdi alongside three remasterings of previous award-laden recordings.
For more information about this project, I Fagiolini or Robert Hollingworth, please contact us. To buy or stream 'Missa Tu Es Petrus' please click here or visit CORO.