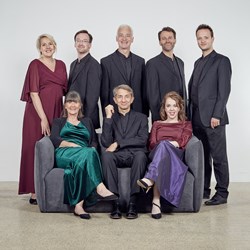 I Fagiolini's consort and solo singing are exemplary...
Gramophone
... a superb ensemble, outstanding in their range and versatility.
The Guardian
This is serious musicianship that never takes itself too seriously - the Holy Grail of concert-going.
The Spectator
I Fagiolini
Director: Robert Hollingworth
I Fagiolini is internationally renowned for its genuinely innovative productions. "The group are musical shapeshifters, following Hollingworth's giddy, eclectic imagination wherever it leads." Signature projects have included The Full Monteverdi and Betrayal: a polyphonic crime drama, an immersive theatre piece sung to the music of Gesualdo with dancers and singers set in 'crime scenes' by John La Bouchardière; Tallis in Wonderland, a new way of hearing polyphony with live and recorded voices; Simunye, the South African collaboration; How Like An Angel (HLAA), with Australian contemporary circus company C!RCA for the 2012 Cultural Olympiad and performed at the Perth International Arts Festival, New York and in cathedrals across Europe.
Premiering in 2021, Re-Wilding The Waste Land is based around T.S. Eliot's poem 'The Waste Land' and is inspired by our need to "Re-wild" (David Attenborough), both our world and our creativity post-pandemic. Re-Wilding The Waste Land begins in the dark-hewn depths of Victoria's Tenebrae Responsories and William Byrd's setting of desolation inspired by the martyrdom of Edmund Campion. Growing out of this desolation is a celebration of the outpouring of creativity since lockdown featuring seven commissions from Joanna Marsh, Shruthi Rajasekar and Ben Rowarth. These alongside Vaughan-Williams and Leighton, present a challenge for humanity, 'The world is charged.'
I Fagiolini: Re-Wilding The Waste Land, narration by Tamsin Greig
Recent projects include five performances in the VOCES8 Foundation's new online festival series LIVE From London: Monteverdi for which I Fagiolini is renowned, Long, Long, Ago - Messe De Minuit a joyous Christmas Eve programme of Charpentier, Howells and Dylan Thomas, Au Naturel, Angels and Demons with Rachel Podger and Brecon Baroque, and Re-Wilding The Waste Land with Tamsin Greig narrating. "This was less a concert than an invitation down a rabbit hole of ideas and art. With guides like I Fagiolini and Greig, who wouldn't want to tumble head-first?" (iNews). A short series of three films for socially distanced chamber musicians, #NotInThisTogether (Le Zoom, Phone-y Canzone-y, and Cake Mix), and also a weekly educational and outreach series Sing The Score funded by ACE and University of York. New podcast 'choral chat' collaboration, Choral Chihuahua, with The Sixteen's Harry Christophers and Eamonn Dougan has been winning admirers globally. I Fagiolini released John Wilbye Draw On Sweet Night on CORO in April 2022. "Sophisticated madrigalists - vocal lines emerging with emotional intelligence and impressive control. It's very classy entertainment." (BBC Radio 3 Record Review)
Chanson d'automne from LIVE From London
New short a cappella film THE STAG HUNT, a modern satire about aristocracy, extinction and the environment, based on La Chasse by Renaissance composer Clément Janequin and directed by John La Bouchardière. It was released on Boxing Day 2020 in association with the Born Free Foundation and won a Jarvis Award for Best Short Film at the 5th Annual Classical Arts Film Festival.
THE STAG HUNT Official Trailer
I Fagiolini explored 'Art through the prism of Music' with leading da Vinci expert Professor Martin Kemp in Leonardo - Shaping the Invisible celebrating the 500th anniversary of Leonardo da Vinci's death in music and image. The album Leonardo - Shaping the Invisible is available through CORO, and tracks were premiered at the National Gallery in its own da Vinci 500 celebrations. Following its success, Robert and music from the album appears in Phil Grabsky's new da Vinci film for Exhibition on Screen Leonardo: The Works. The film received its UK premiere at Chichester Film Festival and appeared in cinemas across the world including Dubai and Vancouver film festivals.
Other notable work includes a celebration of Monteverdi's 450th anniversary featuring performances of Flaming Heart, 1610 Vespers, The Other Vespers, and L'Orfeo at venues including Glyndebourne, AMUZ, Cadogan Hall for the BBC Proms and Queen's Hall as part of the Edinburgh International Festival. In 2019 the production developed with director Thomas Guthrie's use of masks with performances in Stour, York and London.
I Fagiolini's recordings on Decca Classics includes Striggio Mass in 40 parts (2011 Early Music Gramophone and Diapason D'or Award), Monteverdi: The Other Vespers, Amuse-Bouche (French Choral Delicacies), and 1612 Italian Vespers. The group is an Associate Ensemble at the University of York.
For further projects and for print, please download I Fagiolini's full biography.