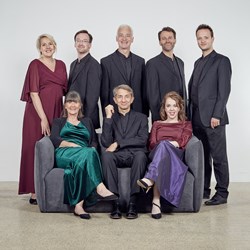 I Fagiolini's consort and solo singing are exemplary...
Gramophone
If there's a more enterprisingly theatrical vocal group than this one, I've yet to encounter it...
The Telegraph
skilful and imaginative...
Financial Times
I Fagiolini
Director: Robert Hollingworth
Grounded in the classics of Renaissance and Twentieth-century vocal repertoire, I Fagiolini is renowned for its innovative and often staged productions of this music. It has staged Handel with masks, Purcell with puppets, and in 2004 premiered The Full Monteverdi, a dramatised account of the composer's Fourth Book of Madrigals (1603) by John La Bouchardière, In 2006 I Fagiolini toured its South African collaboration Simunye and in 2009 created Tallis in Wonderland, a new way of hearing polyphony with live and recorded voices.
In 2012 I Fagiolini and C!RCA, an Australian contemporary circus company, launched How Like An Angel (HLAA) for the 2012 Cultural Olympiad and premiered it at Perth International Arts Festival, for the Lincoln Center in New York, and in cathedrals across Europe. Betrayal: a polyphonic crime drama (with John La Bouchardière), an immersive theatre piece sung to the music of Gesualdo with dancers and singers set in 'crime scenes', premiered at the Barbican in May 2015.
A year-long celebration of Monteverdi's 450th anniversary in 2017 featured performances of Flaming Heart, 1610 Vespers, The Other Vespers, and L'Orfeo at venues including Glyndebourne, St John's Smith Square, Cadogan Hall for the BBC Proms and Queen's Hall as part of the Edinburgh International Festival. The celebrations continued in 2018 with performances of L'Orfeo in Antwerp (AMUZ) and further afield. These progress in 2019 staged and with masks, in Stour, York and London with director Thomas Guthrie.
I Fagiolini – Monteverdi L'Orfeo from LSO St Lukes, July 2019
I Fagiolini explores 'Art through the prism of Music' with leading da Vinci expert Professor Martin Kemp as Leonardo - Shaping the Invisible tours extensively throughout 2019-20 and 2021; the programme celebrates the 500th anniversary of Leonardo da Vinci's death in music and image. The album Leonardo - Shaping the Invisible is available through CORO, and tracks were premiered at the National Gallery in its own da Vinci 500 celebrations in early 2019. Films and other commentary feature on Apple Music and other media hubs across the world. Following its success, Robert and music from the album appears in Phil Grabsky's new da Vinci film for Exhibition on Screen Leonardo: The Works. The film received its UK premiere at Chichester Film Festival in August and will appear in cinemas across the world in the autumn. Further territory premieres include Dubai and Vancouver Film Festival and it will appear in Exhibition on Screen's ITV series next summer.
Touring more Art with Music from 2020 onwards, I Fagiolini - Au Naturel is a rich choral tapestry inspired by Pieter Brueghel the Younger's The Seasons, and includes some semi-staged works looking at composers' views of nature over the centuries - particularly poignant in our changing climate. The programme will feature in I Fagiolini's Russian debut as part of the British Council's 'UK-Russia Year of Music' and will premiere in Kings Place, London as part of the Nature Unwrapped series. Reprising its collaboration with Scottish Ensemble, an immersive Purcell dance programme, A Purcell Phantasy, is also in planning for 2021.
I Fagiolini's latest recordings on Decca Classics, Monteverdi: The Other Vespers and Amuse-Bouche (French Choral Delicacies) were both shortlisted for Gramophone Awards. The group is an Associate Ensemble at the University of York.
For further projects and for print, please download I Fagiolini's full biography.