World premiere recording of Taylor Scott Davis' 'Magnificat' on new Decca Classics album
29 September 2023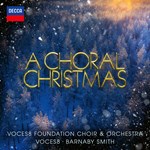 Magnificat: IV. Deposuit the first single from A Choral Christmas, the new album from VOCES8, The VOCES8 Foundation Choir and Orchestra, conducted by Barnaby Smith and featuring Jack Liebeck is out today on Decca Classics. A Choral Christmas reveals world premiere recordings of contemporary choral works alongside new arrangements of favourite carols and is released in full on 3rd November on CD & LP, as well as all streaming / download platforms.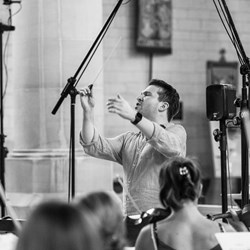 A Choral Christmas includes eight world premiere recordings: the album's substantial five-movement centrepiece, 'Magnificat', by rising American composer Taylor Scott Davis, which will be premiered at Carnegie Hall, New York in May 2024; an intimate and serene new a cappella carol, 'The Sleeping Child', written especially for VOCES8 by British composer Bob Chilcott; five sparkling new carol arrangements for choir and orchestra including 'Joy to the World', 'Silent Night', 'O Come, All Ye Faithful' penned by Taylor Scott Davis and 'Gabriel's Message' arranged by Jim Clements. Capturing the essence of Christmas, the album is packed full of choral/orchestral treats, breathing new life into Holiday classics, and lending a luxurious, and contemporary cinematic sparkle to this year's festive season.
For full information about the album please read Decca Classics' press release or contact us. Click here to pre-order the album or here to download single 'IV: Deposuit Potentes' from Taylor Scott Davis' 'Magnificat'.