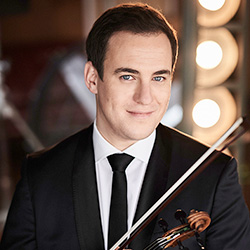 His playing is virtually flawless in its technical ease, scintillating articulateness and purity of tone
Gramophone
His tone is richly hued but at the same time supple and capable of finely shaded nuances of timbre
The Telegraph
… the violinist's golden tone drawing myriad nuances from Bruch's exquisite melodies
The Scotsman
Jack Liebeck
Violin / Director
Possessing flawless technical mastery and a "beguiling silvery tone" (BBC Music Magazine), British violinist Jack Liebeck is one of the most respected musicians of his generation. Jack's fascination with all things scientific has included collaborations with Professor Brian Cox, and his own annual festival Oxford May Music. Jack is also Artistic Director of the Desy Humboldt Science and Music Festival in Germany and the Alpine Classic in Grindelwald, Swizerland where programming is centred around themes of music, science and the arts.
Upcoming engagements include co-curating a special programme celebraiting science and art alongside Daniel Harding and Brian Cox for the Melbourne Symphony Orchestra, including a special commission written for him by Paul Dean in honour of Stephen Hawking, and a return to Thailand Philharmonic. Jack featured on the November 2018 issue of BBC Music Magazine's cover disc, The Virtuoso Violin, and will feature on multiple discs released in 2019/2020 including Braun From the Shtetl with the London Chamber Orchestra, Holst and Vaughan Williams with the Ralph Vaughan Williams Society on Albion Records, Hancock Violin Concerto with the BBC Concert Orchestra, and Brahms and Schoenberg Violin Concerto with BBC Symphony.
Jack Liebeck in concert with the Thailand Philharmonic Orchestra
A renowned soloist and chamber musician, Liebeck has performed with all the major British orchestras under conductors such as Andrew Litton, Leonard Slatkin, Karl-Heinz Steffens, Sir Mark Elder, and further afield with Royal Stockholm Philharmonic (Oramo), Swedish Radio (Daniel Harding), Oslo Philharmonic (Saraste), Belgian National, Polish Radio Symphony, Queensland Symphony, Moscow State Symphony, St Louis Symphony (David Robertson), Indianapolis Symphony (Boyd), Melbourne Symphony (Hrůša), amongst many others. He can be heard on the soundtracks of The Theory of Everything, Jane Eyre and Anna Karenina. Jack is a professor of Violin at the Royal Academy of Music.
Jack Liebeck performs Finale from Brahms Violin Sonata No. 3