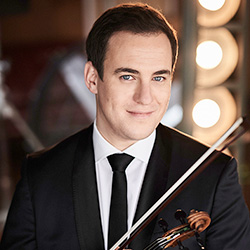 The virtuosity and fine detailing of Liebeck's playing are pretty jaw-dropping ... fierce and thrilling
Gramophone
His tone is richly hued but at the same time supple and capable of finely shaded nuances of timbre
The Telegraph
Exuberance, focus and ravishing tone
The Strad
Jack Liebeck
Violin / Director
Violinist, director and festival director Jack Liebeck, possesses "flawless technical mastery" and a "beguiling silvery tone" (BBC Music Magazine). Jack has been named as the Royal Academy of Music's first Émile Sauret Professor of Violin and as the new Artistic Director of the Australian Festival of Chamber Music from 2022. Jack's playing embraces the worlds of elegant chamber-chic Mozart through to the impassioned mastery required to frame Brett Dean The Lost Art of Letter Writing. His fascination with all things scientific has led to his most recent collaboration, A Brief History of Time, with Professor Brian Cox and Daniel Harding. This new violin concerto was commissioned for Jack by Melbourne Symphony Orchestra from regular collaborator and composer Paul Dean, and is written in commemoration of Professor Stephen Hawking.
Jack has worked with many of the major international conductors and orchestras including Andrew Litton, Leonard Slatkin, Karl-Heinz Steffens, Sir Mark Elder, Sakari Oramo, Vasily Petrenko, Brett Dean (Royal Stockholm Philharmonic), Daniel Harding (Swedish Radio), Jukka Pekka Saraste (Oslo Philharmonic), David Robertson (St Louis Symphony), Jakub Hrůša (Melbourne Symphony) and many orchestras across the world including Thailand Philharmonic, Belgian National, Queensland Symphony, Moscow State Symphony, Orquesta Sinfónica de Galicia, Indianapolis Symphony and all of the UK orchestras.
Jack Liebeck in concert with the Thailand Philharmonic Orchestra
Jack's new album, Schoenberg and Brahms violin concertos with BBC Symphony Orchestra, was released in March 2020 on Orchid Classics as part of his 40th birthday celebrations. The album has continued to receive glowing reviews and was the May BBC Music Magazine Recording of the Month; "Stellar Brahms and an expressive Schoenberg: Jack Liebeck responds with astonishing command, allowing the music's expression to speak with a real degree of freedom, even fantasy" (BBC Music Magazine). Other new recordings and collaborations for Jack include the world premiere recording of Stuart Hancock's Violin Concerto released on Orchid Classics, a chamber disc for Albion Records (Holst and Vaughan Williams) with Mary Bevan, and a recording of Braun's From the Shtetl with London Chamber Orchestra for release in summer 2020.
Jack Liebeck recording Schoenberg and Brahms violin concertos
Programmes include From the Haunted Forest featuring the Elgar; Einstein's Universe, a unique recital with Professor Brian Foster, exploring Einstein's concepts of space, time and the evolution of the Universe alongside his lifelong love of the violin; and Hollywood – composers exiled in paradise with Katya Apekisheva. Jack has been privileged to collaborate regularly with Brett Dean and has given territory premieres for pieces such as Recollections and the piano quintet Voices of Angels. Jack's next recording project will commemorate the centenary of Ysaÿe's Six Sonatas for solo violin in 2023.
The Lark Ascending with VOCES8 from LIVE From London Summer 2021
Wigmore Hall: Jack Liebeck and Katya Apekisheva
From 2022, Jack will be the Artistic Director of the Australian Festival of Chamber Music (AFCM). He is also the Artistic Director of his own festivals Oxford May Music, the DESY Humboldt Science and Music Series in Hamburg, and Alpine Classic in Grindelwald, Switzerland where programming is centred around themes of music, science and the arts. He can be heard in the soundtracks of The Theory of Everything, Jane Eyre and Anna Karenina. As the first Émile Sauret Professor of Violin at the Royal Academy of Music he will work as an ambassador helping to recruit both at home and internationally in addition to his teaching.
For further projects and for print, please download Jack's full biography.