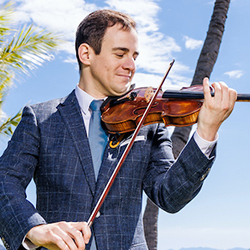 The virtuosity and fine detailing of Liebeck's playing are pretty jaw-dropping ... fierce and thrilling
Gramophone
His tone is richly hued but at the same time supple and capable of finely shaded nuances of timbre
The Telegraph
an old-time virtuoso reborn, able to fiddle away with such a flourish that you expect his violin to catch fire.
The Times 5*
Jack Liebeck
Violin / Director
British/German violinist, director and festival director Jack Liebeck possesses "flawless technical mastery" and a "beguiling silvery tone" (BBC Music Magazine). Jack is the Royal Academy of Music's first Émile Sauret Professor of Violin and Artistic Director of the Australian Festival of Chamber Music, "A diverse and interesting program, giving voice to many of the festival artists, this was a terrific offering for this year's Australian Festival of Chamber Music." (Limelight Magazine). Jack's playing embraces the worlds of elegant chamber-chic Mozart through to the impassioned mastery required to frame Brett Dean The Lost Art of Letter Writing and he has performed with many of the world's leading orchestras, conductors and chamber musicians. Jack's fascination with all things scientific has led to two new concertos being written for him and regular collaborator Professor Brian Cox - Dario Marianelli's Voyager Violin Concerto and Paul Dean's A Brief History of Time commissioned by Melbourne Symphony Orchestra in commemoration of Professor Stephen Hawking. In summer 2023 Jack gave the online premiere of Taylor Scott Davis' new concerto for violin, choir & orchestra To Sing of Love: a Triptych with the VOCES8 Foundation Choir and Orchestra conducted by Barnaby Smith as part of LIVE From London, commissioned for Jack this will be released on album in 2024.

Listen to Mozart 3 and solo Ysaye in QSO: Orchestral Adventures on abc.net.au
The Lark Ascending (new adaption for soloist, choir, orch): Jack Liebeck with The VOCES8 Foundation Choir and Orchestra in LIVE From London/RVW Anniversary concert
Upcoming highlights include a tour of Australia with VOCES8 including performances at Sydney Opera House and with Queensland Symphony Orchestra performing a new arrangement of Lark Ascending and Christopher Tin The Lost Birds; his debut with Spokane Symphony performing Marianelli Voyager; return performances with Royal Scottish National Orchestra, Melbourne Symphony Orchestra (Bruch with Jaime Martin), Savannah Chamber Music Festival, Franz Liszt Orchestra, London Chamber Orchestra, Staatsorchester Rheinische Philharmonie, Wigmore Hall with Jack's ensemble Salica Piano Trio; debuts at La Jolla Festival and a new project with the Australian Youth Orchestra.
Upcoming album releases include featuring as soloist and guest leader on Decca Classics' Christmas 2023 release A Choral Christmas with the VOCES8 Foundation Choir and Orchestra and Barnaby Smith; a recording of the Wilson Violin Concerto with Rory MacDonald and the Royal Scottish National Orchestra for Linn Records; Vaughan Williams' Concerto Accademico with London Choral Sinfonia; and a chamber recording for Orchid Classics of English composer and musical advisor Frederick Laurence's Sonata for violin and piano and Spring Nocturne with pianist Anna Tilbrook. Jack's Schoenberg & Brahms with BBC Symphony Orchestra was 'Recording of the Month' and BBC Music Magazine's 'Recommended Recording' for Brahms Violin Concerto in its 'the greatest violin concertos of all time'; the "flawlessly done" Music from the Ghetto on Signum with Simca Heled and the London Chamber Orchestra earned 5*'s in BBC Music Magazine.
Jack Liebeck recording Schoenberg and Brahms violin concertos
Jack Liebeck recording Ysaÿe Six Sonatas
In the 25+ years since his debut with the Hallé, Jack has worked with major international conductors and orchestras including Sakari Oramo, Andrew Litton, Leonard Slatkin, Karl-Heinz Steffens, Sir Mark Elder, Vasily Petrenko, Brett Dean (Royal Stockholm Philharmonic), Daniel Harding (Swedish Radio), Jukka Pekka Saraste (Oslo Philharmonic), Santtu-Matias Rouvali (Philharmonia), David Robertson (St Louis Symphony), Jakub Hrůša and many orchestras across the world including Belgian National, Moscow State Symphony, Orquesta Sinfónica de Galicia, Indianapolis Symphony, Uppsala with Rebecca Miller and all of UK orchestras. Recital touring includes performances across Europe, USA and Australasia for festivals and venues such as Portugal Festival de Música dos Capuchos, Arts and Lettres, Vevey, Inons Festival (CA), Leeds International Piano Competition and multiple UK festivals as well as his own Australian Festival of Chamber Music and Oxford May Music festival.
As the first Émile Sauret Professor of Violin at the Royal Academy of Music Jack works as an ambassador helping to recruit future talent both at home and internationally as well as nurturing the next generation of violinists in his class.
For further projects and for print, please download Jack's full biography.