Barnaby Smith: new solo album and conducting debuts
9 December 2022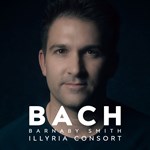 Recently Grammy-nominated and amongst a busy touring and conducting schedule with VOCES8 and ensembles around the world, Barnaby Smith has returned to the studio to record a collection of Bach's greatest music for alto. This latest release, 'Bach' follows his debut solo album, 'Handel'. "Bach has been a central figure in my personal musical journey," says Barnaby. "He is my greatest love as a musician, not only because of the repertoire, but his importance for the modern-day countertenor voice within that repertoire." Available to pre-order on Friday 9 December alongside a single release of Schlafe mein Liebster from the Christmas Oratorio, the album will be released on 24 February on the VOCES8 Record label (cat # VCM152).
Barnaby's programme reflects the annual cycle of the church year ("a cycle from the cradle to the cross, and on to the Resurrection" he says). Featuring two iconic solo cantatas, Ich habe genug, BWV 82 and Vergnügte Ruh, BWV 170, the recital is interwoven with arias from Bach's great oratorios. "From a singer's perspective, Bach is a gift but it's also the hardest thing you'll ever do," says Barnaby. "When you're singing him, you feel totally subservient to the music. His genius feels truly beyond anything you can comprehend. The way he writes for the voice, the gestures within the music, and the opportunities he gives you as a singer are incredibly liberating. There is so much that you can bring to it as an orator, and that is an absolute gift." The countertenor explains that his former teacher Andreas Scholl was a motivating factor in his decision to record again as a soloist, noting: "Hearing him sing Bach was the apex of my early experience, and being able to do it myself has always been a dream."
'Bach' sees Barnaby reunited with some of the UK's finest early music performers, including Leo Duarte (obligato oboe), Steve Devine (organ) and Joe Crouch (cello), all flying under the banner of leader Bojan Čičić's Illyria Consort. The album also features a duet with fellow VOCES8 alto Katie Jeffries-Harris. If you'd like to pre-order 'Bach' please click here.
Barnaby conducts his debut with Nederlandse Reisopera in Handel Messiah on 11 December 2022, before which he directed the VOCES8 Foundation Choir and Baroque Orchestra in Messiah as a scholarship fundraising concert in LIVE From London Christmas on 5 December, 2022.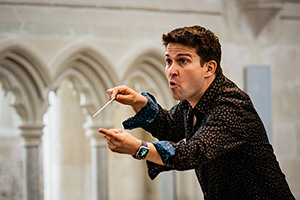 Barnaby conducted the concert premiere of Christopher Tin's The Lost Birds. He also featured as part of VOCES8 and shared duties as conductor with Tin on the album of the same name, recently nominated for a 2023 Grammy Award. Collaborations continue with the 2023 album releases of Paul Simon's 'The Seven Psalms' and 'Home' (Eric Whitacre's The Sacred Veil). He will conduct the Christmas 2023 Decca Classics album release of festive works by Taylor Scott Davis, 'A Christmas Cracker'.
In demand as a conductor, choir trainer, countertenor and arranger, Barnaby is Artistic Director of the internationally renowned vocal ensemble VOCES8, LIVE From London digital festivals, and the UK, US and French arms of The VOCES8 Foundation including its Digital Academy. On disc Barnaby has released on Decca Classics, Universal, Sony, Warner, Naxos, Signum Classics and VOCES8 Records. He has five no.1 albums to his credit and numerous awards including Classic FM Album of the Year. He conducted the Philharmonia Orchestra for the world premiere recording of Mårten Jansson and Charles Anthony Silvestri's 'Requiem Novum'. Recent releases with VOCES8 include 'The Lost Birds' and 'Infinity' (Decca Classics), and 'After Silence' (VOCES8 Records).
To book Barnaby Smith, or to talk about ideas, please call Libby Percival. For more information about Barnaby's conducting and chamber collaborations please visit his website or click here; you can also follow him on Twitter.