I Fagiolini new online: Choral Chihuahua; Sing The Score & The Full Monteverdi; Gramophone Gala
11 May 2020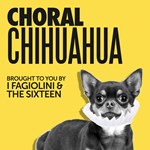 Today marks the launch of a new podcast series by I Fagiolini in collaboration with The Sixteen - Choral Chihuahua. Presented by renowned British choral conductors Harry Christophers, Eamonn Dougan and Robert Hollingworth, the trio muse on things that matter to them: composers they love, points of choral technique, classic but also niche choral works, and other singers, conductors and ensembles they admire. With a light-hearted touch they chew the choral cud, examining the UK's enviable and varied choral scene and what they have learnt along their way.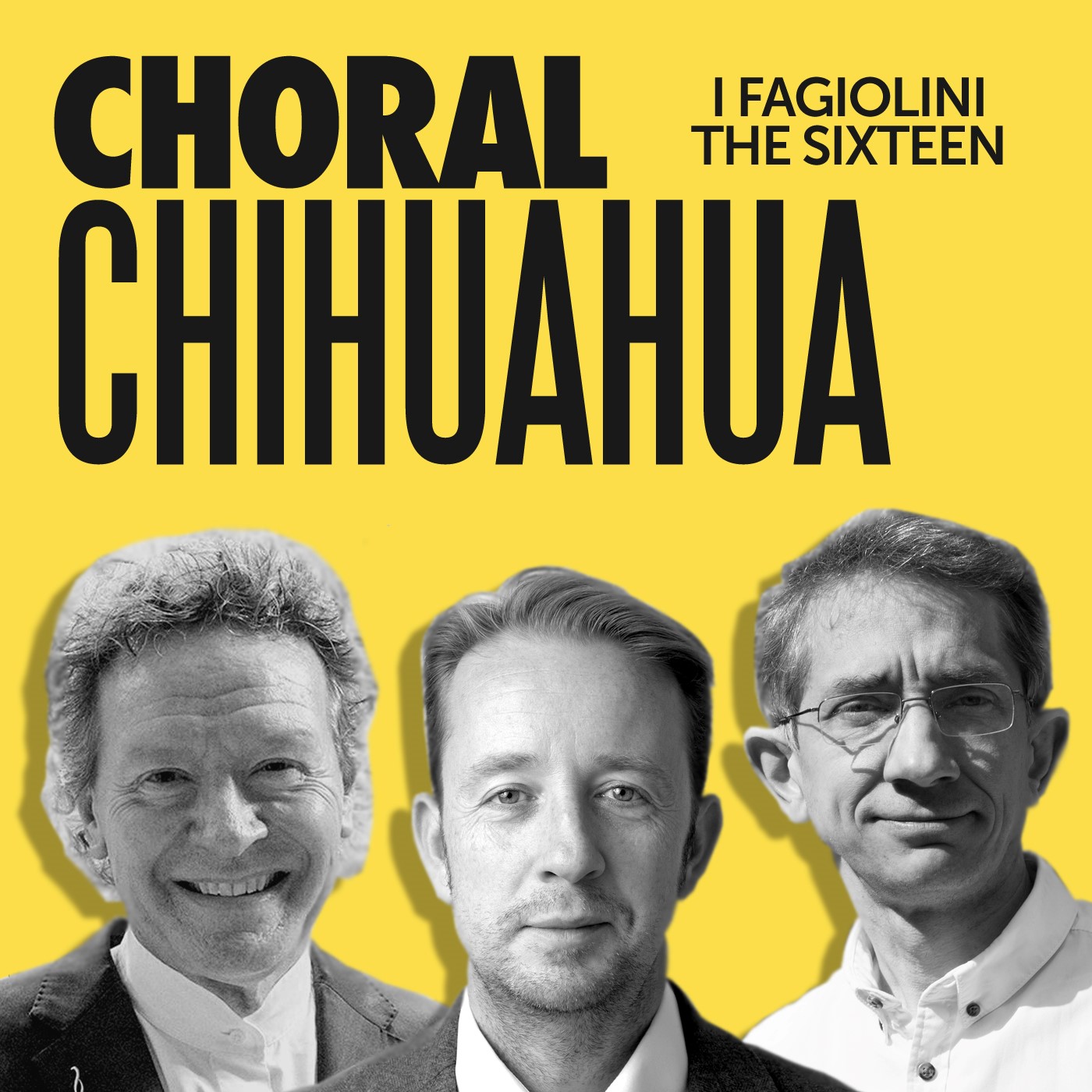 Released every fortnight, the mix of music and chat will also include a variety of guests. Future episodes include appearances from soprano Carolyn Sampson, conductor Grete Pedersen, baritone Roderick Williams, and composer and conductor Eric Whitacre. The podcast is available on Spotify, Acast and Apple amongst other platforms and you can sample the first episode today. [Choral Chihuahua is brought to you by I Fagiolini and The Sixteen and produced by Percius, The Sixteen, and Polyphonic Films. It is supported by I Fagiolini Charitable Trust.]
On 10 May I Fagiolini was privileged to feature in Gramophone's 'Winners' Lockdown Charity Gala' in aid of Help Musicians, the group shared the first episode in its new mini film series, #NotInThisTogether, with writer Timothy Knapman. "I Fagiolini are trying to work together but it's not easy online..." - Cake Mix, Monteverdi with a sprinkle of Knapman, can be viewed as part of the online gala until Sunday 17 May: future episodes of #NotInThisTogether include joys like Zoom for (be)singers. Cake Mix will also feature as part of Brighton Festival #athome alongside an exclusive episode of #SingTheScore.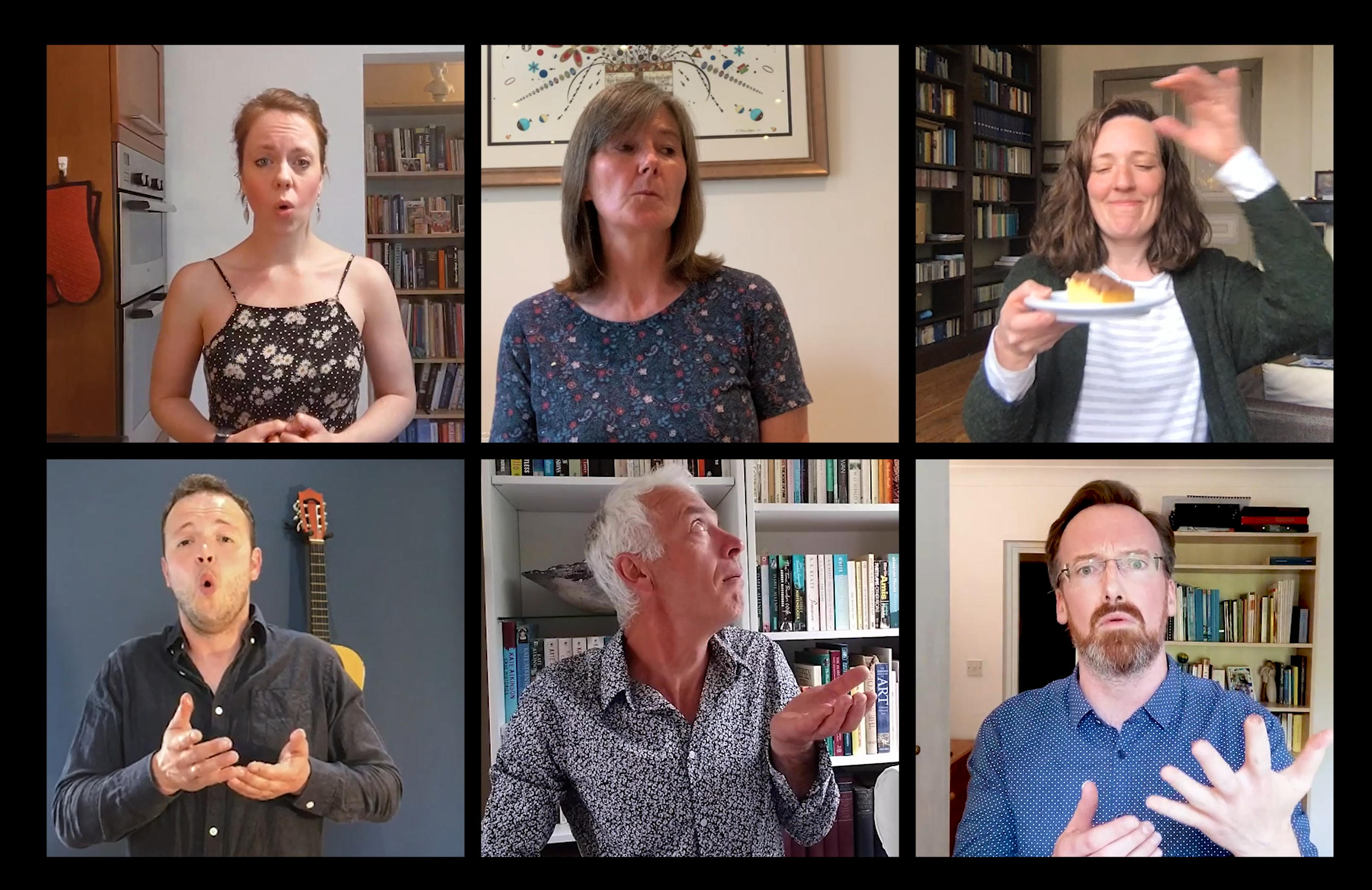 Robert Hollingworth will be talking to BBC Radio 3 In Tune's Sean Rafferty at 17:15 on 11 May about all of I Fagiolini's new online offerings. The group's weekly #SingtheScore series introduces viewers to I Fagiolini's wonderful consort repertoire. Each film is introduced by Robert in his inimitable style; and with increasingly Hollywood-esq production values, he offers a weekly insight into a new piece each Friday on YouTube and the chance for singers around the world to #SingTheScore.
A popular bi-monthly #SingTheScoreExtra is presented by Robert and run by Midlands Early Music Forum and I Fagiolini Friends – it links Early Music lovers all over the world. Each interactive online video session includes a guest, study of some music, played tracks and live music from guest's homes.

Friday 15 May is the anniversary of Monteverdi's birthday, to honour the occasion I Fagiolini is for the first time releasing it's 2007 film The Full Monteverdi online. There will be a Vimeo premiere at 8pm BST. I Fagiolini also looks forward to a new EP release of music by John Wilbye for CORO, and a new film directed by John La Bouchardière, The Stag Hunt, of Janequin's La Chasse.
To book Robert/I Fagiolini, or to talk about ideas, please call Libby Percival. For more information about Robert or I Fagiolini please visit its website or click here; you can also follow Robert on Twitter or watch I Fagiolini's films on YouTube.