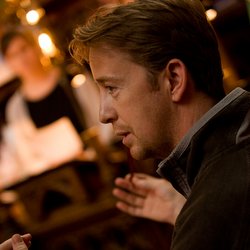 "under conductor Eamonn Dougan [Britten Sinfonia] created an intensity of atmosphere that made one wonder why this music [MacMillan Seven Last Words] would ever have needed visuals."
The Guardian
liquid vocal lines pliantly shaped here by conductor Eamonn Dougan.
BBC Music Magazine
Eamonn Dougan
Conductor
Eamonn Dougan is an inspirational communicator with a wide-ranging repertoire and is a renowned vocal coach and baritone. "Dougan and his team [Britten Sinfonia] displayed masterly control… Singing without blemish; playing that leapt straight from the heart: here was a sterling performance" (The Times - MacMillan Seven Last Words); Eamonn is Associate Conductor of The Sixteen, founding Director of Britten Sinfonia Voices, Music Director of the Thomas Tallis Society, and Chief Conductor for Jersey Chamber Orchestra.
Alongside Eamonn's regular conducting, upcoming projects include debuts with: Chorwerk Ruhr in a programme celebrating the 400th anniversary of Byrd, Polish Radio Choir & Orchestra (Wroclaw Philharmonic Choir), a Christmas tour with Ars Nova and conducting Handel Messiah in two performances at Auditorio Nacional de Madrid with Orquesta Barroca de Sevilla and Chamber Choir Ireland, Bach St Matthew Passion and a new project with soloist Natalie Clein. Eamonn returns to Cumnock Tryst to conduct its Cumnock Tryst Festival Chorus in the world premiere of Phillip Cooke's Gloria (commissioned especially for the Tryst), and Lambert's Rio Grande – in 2024 Eamonn will return to conduct MacMillan's All the Hills and Vales Along for the Tryst's tenth anniversary. Other returns include forging a new young artist scheme for Chamber Choir Ireland, mentoring and leading Genesis Sixteen, and conducting The Royal Academy of Music in two concerts from its new season Sounding Isle series (Purcell).
Recent highlights have included earning a distinguished Diapason d'Or for the first disc in a 12-album series of Morales' complete Masses and Magnificats with De Profundis on Hyperion - "We can feel confident that the future of this bold project is in the best possible hands." (Gramophone); advising on and directing performances for the Royal Academy of Music's Bach the European series; his debut with English National Opera for Haydn Seven Last Words of our Saviour on the Cross "This was a triumph. Dougan clearly loves the work and brought a real sense of style to the orchestra while finding lightness from the large chorus" (Seen and Heard), Handel Semele at Sibelius Summer Academy and Handel Acis and Galatea for Ryedale Festival Opera, for which he was invited back to conduct this year's production of Venus & Adonis.
Notable successes have included the world premiere of James MacMillan All the Hills and Vales Along at the Cumnock Tryst Festival with Ian Bostridge, conducting the off-stage chorus for Berlioz L'Enfance du Christ with The Hallé, Britten Sinfonia Voices and Genesis Sixteen for BBC Proms 2019. He assisted Sir Mark Elder for Opera Rara's world premiere concert and recording of Puccini Le Villi with London Philharmonic Orchestra and their recent recording Zingari. Eamonn directed The Sixteen's highly acclaimed tour of Australia and Singapore, Messiah with Orquesta Sinfónica de Castilla y León and Cappella Amsterdam, made his Spanish debut with the Bilbao Orkestra Sinfonikoa and Real Orquesta Sinfónica de Sevilla, and in Paris at the La Seine Musicale with renowned ensemble Accentus and in Copenhagen with Danish National Symphony Orchestra, VokalEnsemblet and KoncertKor. Eamonn, amongst others, has conducted BBC Singers, Narodowe Forum Muzyki Choir, Orchestra of the Age of Enlightenment, Orquesta y Coro de la Comunidad de Madrid (ORCAM), Irish Baroque Orchestra, Orchestra North East and London Chamber Orchestra. His developing opera work has included Dido and Aeneas, Mozart La finta giardiniera, and Cosi fan tutte with Ryedale Festival Opera.
Eamonn has a highly successful five-disc Polish Baroque series with The Sixteen. The first disc, music by Bartlomiej Pekiel, was met with widespread critical acclaim and was shortlisted for a Gramophone Award. Subsequent discs in the series include The Blossoming Vine, music by Gorczycki, Helper and Protector and music by Marcin Mielczewski.
Eamonn is consultant coach for the Royal Academy of Music and a Visiting Professor to the Guildhall School of Music and Drama, London, where he teaches ensemble singing and directs the Guildhall Consort.
For further projects and for print, please download Eamonn's full biography.