Spring shoots: new festival, albums and artists
4 February 2021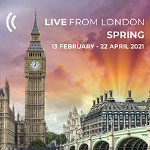 "Spring won't let me stay in this house any longer! I must get out and breathe the air deeply again" (Mahler): as Winter blossoms into Spring, Percius is looking forward to sharing shoots of love, new life and hope with you through LIVE From London – Spring and its new artist collaborations and album launches which can be found on Percius' new projects page.
Throughout lockdown Percius has been enjoying working as a consultant for The VOCES8 Foundation, creating and curating a series of online festivals, LIVE From London. The first two festivals sold 100,000 single digital seats in 75 countries and the LIVE From London team has just unveiled its third festival, LIVE From London – Spring. Offering concert treats from Valentine's Day to Earth Day, the superb line-up of artists includes special guest appearances from Stephen Fry, Dame Emma Kirkby & friends, Tamsin Greig, Joanna MacGregor, Jonathan Dove, Stile Antico, the English Chamber Orchestra, Jason Max Ferdinand, VOCES8, Apollo5, the Academy of Ancient Music, the Carducci Quartet, I Fagiolini and a divine list of soloists for Bach Mass in B Minor on Easter Day. LIVE From London Spring celebrates young talent, community and diversity and includes the world premieres of new commissions by Joanna Marsh, Shruthi Rajasekar and Ben Rowarth, and new arrangements of Nina Simone, Eleanor Alberga and Mary Lou Williams by Joanna MacGregor. The festival has been uniquely designed to raise money for the artists, and included in the ticket price is a donation to support The VOCES8 Foundation's education, outreach, and diversity work around the world. Watch live or 'on demand' from 13 February – 30 April.
"VOCES8's latest virtual festival is a heavenly, homely showcase of choral works old and new." (The Observer)
Percius is also thrilled to share Joanna MacGregor's new programme Soul of A Woman which will be launched in LIVE From London – Spring for International Women's Day. Award-winning pianist Joanna curates a rich journey from the Deep South to New York, from Russian poetry to an African paradise. This beautiful solo set includes Florence Price's romantic music, spiritual arrangements - Margaret Bond's Troubled Water as well as MacGregor's explorations of Deep River and Sometimes I Feel Like a Motherless Child - as well as Mary Lou Williams' spikey, witty jazz solos from the Zodiac Suite. Joanna's arrangements will be newly published and available to purchase from her website. If you'd like to book Joanna's new programme please contact us.
Other Spring blooms to look forward to include new artist, Barnaby Smith (conductor, Artistic Director and countertenor), much awaited new albums from Rachel Podger and Christopher Glynn (world premiere completions of Mozart Sonatas on Channel Classics) and from Jack Liebeck (solo Ysaÿe for Orchid Classics), and I Fagiolini's new touring programme Re-Wilding The Waste Land. Inspired by T.S. Eliot's ground-breaking poem The Waste Land, written 100 years ago in the wake of the catastrophic upheavals of the First World War and the 'Spanish Flu', 'Re-Wilding The Waste Land' explores cycles of renewal in both creation and creativity. Ensnared in our own pandemic and mindful of David Attenborough's 'witness statement' plea to Re-Wild, desolation flowers into an outpouring of music and poetry. The world premiere of Re-Wilding The Waste Land will be on Earth Day, 22 April 2021 and will feature three new commissions as well Tamsin Greig narrating the Eliot poem.
To talk about ideas or to book Percius' artists or projects please contact us. We love sharing, so please join our community on Facebook and Twitter for up-to-date news and media.