Rejoice, Rejoice! Spanish debuts and new Chief Conductorship for Eamonn Dougan
12 December 2019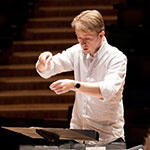 "Sound the Trumpet"! Following a successful year including highlights such as conducting The Sixteen's tour to Australia and Singapore, his debut with Danish National Symphony Orchestra and KoncertKor in Sköne kor, and Berlioz L'Enfance du Christ with his Britten Sinfonia Voices and 'Angels' from Genesis Sixteen for the BBC Proms, we're delighted to unveil that Eamonn Dougan will become the Chief Conductor for Jersey Chamber Orchestra beginning in January.
Eamonn has already conducted several successful concerts with the ensemble including a Mozart Gala featuring soloist Peter Donohoe, and the world premiere of a major new commission by Errollyn Wallen written in celebration of the tenth anniversary of Jersey's Liberation Festival, and featuring acclaimed trio the Kosmos Ensemble.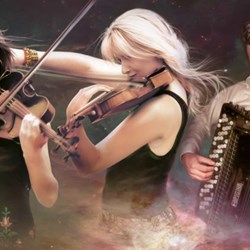 Eamonn is looking forward to developing the programming and scope of the orchestra with its current team. Eamonn's first concert in his new role will be on 25 January 2020 conducting Love Stories featuring Anna Fedorova performing Rachmaninov Piano Concerto No.2.
James Mews, Music in Action, writes: "Music in Action is delighted that Eamonn Dougan has agreed to become our new Chief Conductor. Eamonn has the ability to bring the best out of players. His vision and ability to mould the sound of the orchestra is inspiring. We look forward to working with him in his new role."
Last week for Fundacio La Caixa, Eamonn conducted his debut with Bilbao Orkestra Sinfonikoa and Sociadad Coral de Bilbao – a rousing and almost surround-sound Handel's Messiah with soloists Rowan Pierce, Victoria Simmonds, Ed Lyon and Henry Waddington. Next week his own Dúchann Collective sings Messiah with Fabio Biondi and Europa Galante in Las Palmas, before joining Eamonn for a final 'Hallelujah' of the season in Seville with Mary Bevan, Victoria Simmonds, Thomas Walker, Darren Jeffrey and Real Orquesta Sinfonica de Sevilla.

Eamonn's New Year includes return visits to conduct the BBC Singers, Danish National Symphony Orchestra, Danish National VokalEnsemblet and KoncertKor, Ryedale Festival Opera, The Cumnock Tryst Festival Chorus, Orquesta y Coro de la Comunidad de Madrid (ORCAM) and further concerts conducting The Sixteen.
Congratulations to Eamonn, and Seasons Greetings and many blessings to you all.
For more information and to watch videos of Eamonn's work please visit his page. If you'd like to book Eamonn please contact Libby Percival. Keep up-to-date with Eamonn's latest news on Twitter.