Hollingworth's sizzling summer and Spanish CD release
29 June 2018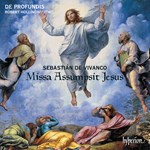 Described on BBC Radio 3's Record Review as "sensational... immensely moving" Robert Hollingworth directs the sumptuous all male choir De Profundis on new album Vivanco: Missa Assumpsit Jesus & Motets which is released today on Hyperion. The recording of the motets and mass, which was written for the feast of the transfiguration, brings Vivanco's complex sonic tapestries to life, the CD giving "A lovely conspectus" of the composer. "Hollingworth wrings some wonderful juiciness out of this polyphony... I really enjoyed the singing" BBC Radio 3, Record Review. Meanwhile Bryn Terfel described the CD as "stunning". If you'd like to buy the album please visit Hyperion.
Following Robert's appointment as Director of Stour Music festival from 2020, he has a busy summer of conducting ahead. Aside from work with I Fagiolini, he conducts the Academy of Ancient Music, VOCES8 and the VOCES8 Scholars at Milton Abbey International Music Festival in a programme including Bach Actus Tragicus and Durufle's hauntingly beautiful Requiem.
Elsewhere in Europe, Robert travels to Poland to direct Capella Cracoviensis in Krakow before journeying onto Antwerp with I Fagiolini to conduct Thomas Guthrie's semi-staged production of Monteverdi L'Orfeo which enjoyed much success across 2017 for Monteverdi 450, this time featuring renowned soprano Mary Bevan as Eurydice and La Musica.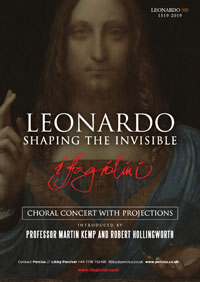 Future projects include a Messiah tour with the Irish Baroque Orchestra, a return to RIAS Kammerchor and a project with the National Youth Choir of Great Britain. Meanwhile forthcoming plans with I Fagiolini include the group's next special project and new album, Leonardo – Shaping the Invisible for Da Vinci 500 in 2019. Interweaving projections of Da Vinci's most famous art alongside illuminating choral pieces, the evening is introduced by world renowned Da Vinci expert, Professor Martin Kemp.
Do follow Robert Hollingworth on Twitter. If you'd like to find out more about Leonardo – Shaping the Invisible contact Libby Percival.