Hollingworth appointed Artistic Director of Stour Music from 2020
1 June 2018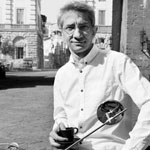 We're thrilled to announce that Robert Hollingworth (director, I Fagiolini) will succeed Mark Deller as Artistic Director of Stour Music from 2020. The early music festival, founded by Alfred Deller in 1962, has announced that his son Mark Deller, who has been running the festival for the past 44 years, will be standing down as Festival Director in 2019.
Robert says "I first came to Stour Music in 1992 and it has since become a regular pilgrimage. I love the unique combination of a rural Kent church, Alfred Deller's grave nearby and the legendary puddings - all of which seem to get musicians to give of their best. I'm flattered to be asked to step into Mark's shoes and as the third countertenor/director of a vocal group to run the festival, will sound the trumpet for Stour."
Mark Deller, who began his career organising the first ever Salisbury Festival of the Arts in 1967, took over the reins at Stour from his father in 1974, and subsequently was Director of the Canterbury Festival for 18 years, when it was re-established in 1984. In 1995 he was awarded an Hon. D.Mus by the University of Kent, for his services to the Arts in the region, and in 2014 was given an Exceptional Service Award by the British Arts Festivals Association.
Robert Hollingworth, inspired by The Deller Consort amongst others, set up I Fagiolini in 1986. Innovative productions over 30 years have included The Full Monteverdi and Tallis in Wonderland (on film and international performances including Lincoln Center, New York), and How Like An Angel with Australian acrobats C!RCA for the 2012 Cultural Olympiad. CD releases have included the acclaimed and Gramophone Award winning Striggio Mass in 40 Parts on Decca, and most recently Monteverdi: The Other Vespers. In 2019 Robert and I Fagiolini will be touring Monteverdi L'Orfeo and for Da Vinci's 500th anniversary, Leonardo – Shaping the Invisible, an immersive concert experience merging music and art with projections and narration from world renowned Da Vinci expert Professor Martin Kemp. Robert continues as Anniversary Reader in Music at University of York where he teaches his MA in Music for Solo-Voice Ensemble Singing.