Amuse-Bouche! New I Fagiolini CD & Wigmore Hall concert
4 December 2015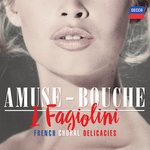 I Fagiolini's much anticipated new CD for Decca Classics, Amuse-Bouche, is now available for pre-order on iTunes and will be released in April 2016: watch the video trailer for the disc here. The group give a performance celebrating the disc at Wigmore Hall on 10 December, a concert which also marks the 50th birthday of soloist and composer Roderick Williams who is a former member of I Fagiolini.
Amuse-Bouche celebrates the group's love of French music and includes world premiere recordings of Jean Françaix's humorous but beautiful Ode à la Gastronomie for twelve voices, Milhaud Deux Poèmes and a moving arrangement of the Adagio from Ravel Piano concerto in G by Roderick Williams for piano and voices.
"I Fagiolini have a particular sensibility for French music as heard in the caressing expressiveness and beautifully rounded vowels … It was an evening of beguiling smooth sounds, intelligence and irreverence" Sydney Morning Herald
The CD also includes Poulenc Sept Chansons and Un soir de Neige which on I Fagiolini's debut tour of Australia this year Classic Melbourne described as "exquisitely sung and a joy to discover: I hope I Fagiolini record them." Broadway World concluding that the Sept Chansons were "sung with impeccable diction and a sense of mystery that was quite engaging to the point of being hypnotic … Warm, sensual and moving".
Daniel-Lesur Le Cantiques des cantiques showcases I Fagiolini's flair for presenting dramatic and engaging texts whilst Satie Gnossiennes 4-6 give a nod to his 150th anniversary in 2016. The Satie and the Ravel/Williams are performed by pianist Anna Markland who won BBC Young Musician of the Year in 1982 and as a singer (Anna Crookes) is one of the founding members of I Fagiolini. 2016 is also I Fagiolini's 30th anniversary year.
To pre-order your copy of Amuse-Bouche on iTunes and receive the Ravel/Williams Adagio to listen to now, please click here. To book tickets for the Wigmore Hall concert on 10 December visit the hall's website. To book performances of Amuse-Bouche by I Fagiolini contact Libby Percival.