Rachel Podger: 'Tutta Sola' album release and season ahead
28 October 2022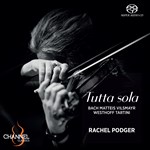 We're delighted to unveil the release of Rachel's new solo album 'Tutta Sola' for Channel Classics on 28 October – the album will be given its US concert premiere at the Library of Congress, Washington on 8 November and UK premiere at the Barbican, London on 15 December, touring on to Europe and the USA through Spring '23.
Following recent solo discs of note, 'A Guardian Angel' and 'Bach Solo Cello Suites', this new album is a beautiful, intimate voyage of discovery starting with an unexpected and exciting world premiere arrangement of Bach's Toccata & Fugue by Chad Matthias Kelly and including preludes, dances and fugal movements from European composers who all lived to celebrate New Year's Eve in 1700. Lesser-known gems such as Matteis Jr.'s heart-wrenching Fantasia in C Minor feature amongst solo violin music from Johann Joseph Vilsmayr, Johann Paul von Westhoff, and Giuseppe Tartini - each of whom were remarkable violinists in their own right.
The title 'Tutta Sola' means 'all alone' which was inspired by J.S. Bach's Sonatas and Fugues which were titled 'sei solo' and can be interpreted as 'you're alone'. Rachel's philosophy that "just about everything starts with Bach" was the reason for beginning the album with the new Toccata and Fugue arrangement. Rachel notes:
When you're recording a solo album, you're in a space, with your instrument, the composer, microphones, and there's no-one else there. It's really special and hard to describe. It feels like an honour in a way, to fill that space with my violin. During the recording sessions of 'Tutta Sola' it happened to me multiple times that my dear friends, producer Jonathan Freeman-Attwood or recording engineer Jared Sacks, would suddenly say something over the speaker, and I would be slightly shocked - "Oh right! You are here too!" - from having been in such deep concentration. I felt so close to the composers. There's nothing quite like it, and it's a privilege.
If you'd like to order your copy of 'Tutta Sola' please visit Outhere's website.
"A breathtaking interpretation of Bach's Cello Suites. A spellbinding set that is arguably Podger's finest recorded achievement to date". (5*, Recording of the Month, BBC Music Magazine)
Aside from recital touring, Rachel's packed '22/'23 Season includes return visits to the Irish Baroque Orchestra, Tafelmusik, Caramoor and two projects continuing her developing relationship with BBC Philharmonic Orchestra. Rachel and VOCES8 will reprise their 'A Guardian Angel' programme both live in concert and digitally in LIVE From London Christmas '22, before unveiling their next collaboration around Bach (2024).
Rachel continues her teaching and performing associations with The Juilliard School, the Royal Academy of Music and Royal Welsh College of Music and Drama, and looks forward to her next sell-out Brecon Baroque Festival, touring Vivaldi Four Seasons with her ensemble Brecon Baroque before the group releases its next album, Bach Goldberg Variations Reimagined, an exciting chamber arrangement of the famous work written by Chad Kelly especially for Rachel.
To book Rachel Podger, or to talk about ideas, please call Libby Percival or Desireé Ayton. For more information about Rachel please visit her website or click here; you can also follow her on Twitter.