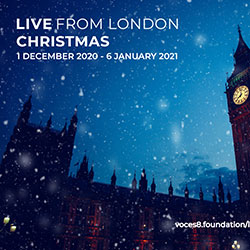 Some of my most enjoyable musical moments of the lockdown came from the online festival of choral music, 'Live From London'
The Telegraph
...risky, brave and absolutely what was needed this Christmas.
i news
LIVE From London Christmas
1 Dec 2020 - 6 Jan 2021
https://voces8.foundation/livefromlondon-christmas
The online festival returned with a snow-dusted selection of favourite holiday pieces, filmed live from VOCES8's stunning church in the heart of the city and from venues across the world.
Built on the global success of LIVE From London, which was viewed by audiences in over 60 countries, the VOCES8 Foundation prepared a sackful of musical gifts for the festive season. LIVE From London – Christmas featured a starry line-up from the UK, the US and across Europe and supported the VOCES8 Foundation's global message of music education for all by gifting youth ensembles from across the world a stage for their singing.
The internationally renowned line-up included VOCES8, with vocal groups The Tallis Scholars, Take 6, I Fagiolini, London Adventist Chorale, ANÚNA, Amarcord, The Aeolians, and Apollo5. Soloists in the series included baroque violinist Rachel Podger (A Guardian Angel) and baritone Roderick Williams (Solstice); Roderick appeared a second time with the Gabrieli Consort & Players directed by Paul McCreesh in Bach For Christmas. The ensemble and its stunning line-up of soloists (including Carolyn Sampson, Anna Dennis, Tim Mead and Ashley Riches) performed Bach's Christmas Oratorio cantatas, each on the day for which they were liturgically written.
The festival also featured six new VOCES8 commissions from Ken Burton, Melissa Dunphy, Jocelyn Hagen, Taylor Scott Davis, Paul Smith, Roderick Williams, and repertoire ranging from Bach, Praetorius, Eccard, Charpentier and Tallis to Howells, Britten, Pärt, Tavener, Michael McGlynn, Ola Gjeilo, and arrangements of best-loved Christmas pop. LIVE From London is 'all you want for Christmas'.
"We feel incredibly privileged to have been involved in this instalment of 'LIVE From London'. With the absence of our usual busy Christmas season, it was fantastic to come together again for the first time in months to create something so special as part of a wonderful community of ensembles." ANÚNA
Libby Percival is co-manager for LIVE From London festivals, assisted by Desireé Ayton. Percius is a consultant for The VOCES8 Foundation.