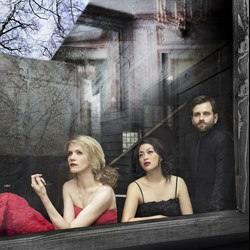 thrilling, wild energy, electrifying
Gramophone
Their unanimity, communication, variety of touch, and expressive sensibility rate first tier.
The Boston Musical Intelligencer
shows enormous stylistic variety, from great pathos to playful mischievousness to exuberant virtuosity
BBC Music Magazine
Neave Trio
Anna Williams, violin
Mikhail Veselov, cello
Eri Nakamura, piano
Forged out of friendship and honed by passion, the Neave Trio has earned enormous praise for its engaging, cutting-edge performances, innovative collaborations and its championing of works by living composers. Now Grammy-nominated, the Trio's recordings have been named among the best recordings of the year by both The New York Times and BBC Radio 3, and Gramophone notes their performances as "thrilling, wild energy, electrifying".
Neave has performed at esteemed concert series' and festivals worldwide including Lincoln Center's Mostly Mozart Festival, Carnegie Hall's Weill Recital Hall, Smithsonian American Art Museum, Kaatsbaan Summer Festival, Bard Music Festival, Rockport Chamber Music Festival, La Jolla Athenaeum, as well as performances across Europe, Japan and Russia.
'Gathering Light' trailer
Of particular note for Neave upcoming are the world premieres of three works written for the trio: Robert Paterson's new triple concerto on the topic of climate change, to be premiered in June '23 under the baton of JoAnn Falletta at the Mostly Modern Festival, and new works from celebrated composers Jennifer Higdon and Jonah Sirota. Anticipated recording and touring programmes include the beautiful 'A room of her own' around Smyth, Tailleferre, Boulanger and more. Neave's critically acclaimed recordings include Musical Remembrances (Chandos Records, 2022), Her Voice (Chandos, 2019), Celebrating Piazzolla (Azica Records), French Moments (Chandos) as well as the trio's debut album in 2016, American Moments (Chandos).
Robert Paterson's 'Moon Trio'
Innovative programming and collaborations with artists of many mediums are a hallmark of the Neave's work, its current collaborations include: Rising, an exploration of what it means to rise with PigeonWing Dance, choreographer Gabrielle Lamb and American composer, Robert Sirota; Gathering Light, an immersive evening of sight and sound created with media artist Sharon Harper, which premiered at Harvard University in 2022; D-Cell: an Exhibition & Durational Performance, conceived and directed by multi-disciplinary visual artist David Michalek; as well as performances with the Blythe Barton Dance Company; with dance collective BodySonnet; with projection designer Ryan Brady; and in the interactive concert series "STEIN2.0". Working with living composers, Neave Trio's recent premiere performances include Klee Musings by acclaimed American composer Augusta Read Thomas, Eric Nathan Missing Words V, recorded for New Focus Recordings, Elena Ruehr Winter Night, Leah Read Cloud Burst for piano trio and electronics, and Dale Trumbore Another Chance, among others.
"it should come as no surprise that the ensemble plays with character and panache. How well their approach translates to the passionate world of the Argentine tango, though, may come as a bit of a shock … as in, you might be astonished that they didn't get their collective start in one of Astor Piazzolla's quintets". (The Art Fuse)
Astor Piazzolla - "Otoño Porteño" (Autumn)
Members of the Neave are dedicated educators and the trio has held residency positions at Brown University, MIT School of Architecture and Design, and University of Virginia.
The Neave Trio is managed in North America by Jensen Artists and by Percius for the rest of the world.
For further projects and for print, please download Neave Trio's full biography.