Rachel Podger wins BBC Music Magazine Award
8 April 2014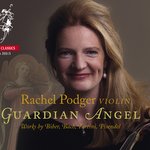 Rachel Podger has won the instrumental category of the prestigious BBC Music Magazine Awards for her acclaimed solo recital album Guardian Angel on Channel Classics. The award was decided by public vote.
Rachel appears on BBC Radio 4's Woman's Hour at 10.00 today, to talk to Jane Garvey about the award, her career and upcoming projects. Rachel will also perform an extract from Guardian Angel live on air for Radio 4 listeners before accepting her award from BBC Music Magazine during an exclusive ceremony at Kings Place.
Rachel Podger: "Each piece of music on this CD has a special, personal significance for me. However clichéd that may sound, a good deal has to do with the nature of playing completely solo – and how you identify with each note, considered and crafted completely in your own space and time. It's an immense honour to win this award and I'd very much like to thank all those of you who voted, I have never before had the experience of being voted for by the public! I feel as though I should be donning a ball gown and given points for my performance by the 'Strictly' judges!"
The disc was reviewed in the December issue of BBC Music Magazine, and given 5 out of 5 stars for both performance and sound: "Characteristically unforced and natural, the playing manages to sound endlessly considered yet spontaneous. There's a sureness to the placing of every note, whether poised or bristling with bite and bravado. And Podger speaks the Italian of Tartini with a native fluency...All in all, utterly 'stupendious'."
The Awards jury had this to say about Rachel's disc:"If you suspect that almost 80 minutes of solo Baroque violin is a tough sell, just surrender yourself to the musical ingenuity of J.S. Bach, Pisendel, Matteis, Tartini and Biber, in the hands of someone who speaks their language as effortlessly and fluently as they could possibly wish. It's simply gorgeous."
Oliver Condy, Editor of BBC Music Magazine, commented: "Each of this year's winning recordings has come about through an artists' overriding passion for the music, their belief that they have something more to say about it and their skill to make their aspirations a reality. All of them are thrilling." You can read more about the winners of the 2014 Awards in the May issue of BBC Music Magazine, on sale 9 April 2014. The winning albums are available now on iTunes in the Mastered for iTunes format.

Rachel Podger is one of the most popular and creative talents to emerge in the field of period performance. Over the last two decades she has established herself as a leading interpreter of the music of the Baroque and Classical periods. Rachel has a very busy summer ahead, appearing at festivals and venues throughout Europe as a soloist and directing her ensemble Brecon Baroque.
For concert information as it is released, and more on Rachel's upcoming projects and collaborations please visit Rachel's website. If you are interested in booking Rachel please contact Libby Percival.
For more information about Guardian Angel & Rachel's other recordings please visit the RSK website.
The BBC Music Magazine Awards will be hosted by Oliver Condy and Radio 3's In Tune presenter Sean Rafferty, and attended by artists and representatives from across the classical music industry, as well as 100 BBC Music Magazine readers. Performers will include Bryn Terfel, Rachel Podger and Igor Levit; presenters will include revered Wagnerian soprano Dame Anne Evans, actor Sam West and acclaimed pianist Pierre-Laurent Aimard.