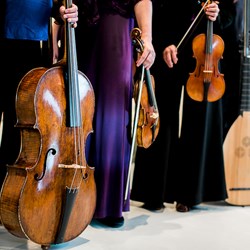 Rachel Podger's crack team deliver miracles of virtuosity.
The Observer
Inspirational originality elicits inspirational playing.
BBC Music Magazine
intimacy in the rapt slow movements and sizzling dash in the allegros.
The Sunday Times
Brecon Baroque
Director: Rachel Podger
http://www.rachelpodger.com/brecon-baroque
The dynamic ensemble Brecon Baroque consists of an international line-up of some of the leading lights in the period-instrument world, including cellist Alison McGillivray, violist Jane Rogers, harpsichordist Marcin Świątkiewicz, lutenist Daniele Caminiti and violinist Johannes Pramsohler. The ensemble specialises in mainly one-to-a-part performances but also appears as a small baroque orchestra for Vivaldi, Telemann, Purcell and Handel.
Rachel and Brecon Baroque's debut CD, Bach Violin Concertos, attracted universal critical acclaim and was quickly hailed as a benchmark recording of these works. The group's complete recording of Vivaldi L'Estro Armonico concertos won the 2016 BBC Music Magazine Concerto Award and Biber Rosary Sonatas won the 2016 Baroque Instrumental Gramophone Award. Additional disc releases include Bach Art of Fugue (2016), Grandissima Gravita (2017), and Vivaldi Le Quattro Stagioni (2018).
Brecon Baroque made their debut at the Edinburgh International Festival in 2017. Forthcoming engagements include tours of Vivaldi Four Seasons, Bach Dynasty with mezzo soprano, Ciara Hendrick, and the Brecon Barqoue Festival.