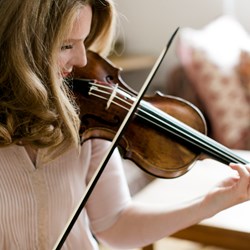 the unsurpassed British glory of the baroque violin
The Times
there is probably no more inspirational musician working today
Gramophone
intoxicating combination of power and grace
Toronto Star (with Tafelmusik)
Rachel Podger
Baroque violin / Director
Rachel Podger, "the unsurpassed British glory of the baroque violin" (The Times), has established herself as a leading interpreter of the Baroque and Classical music periods. She was the first woman to be awarded the prestigious Royal Academy of Music/Kohn Foundation Bach Prize in October 2015 and is the 2018 Gramophone Artist of the Year. A creative programmer, she is the founder and Artistic Director of Brecon Baroque Festival and her ensemble Brecon Baroque.
Rachel Podger performs Bach Cello Suite No.1 in G (trans. into D) at the Gramophone Awards 2018:
After an exciting year with the highly anticipated release of Vivaldi Le Quattro Stagioni on Channel Classics, Rachel will be one of the Artists in Residence at the renowned Wigmore Hall throughout the 2019/2020 season featuring a collection of all-Bach performances with Brecon Baroque. Alongside this, Rachel and Christopher Glynn will collaborate for the first time in a recording and performances of Beethoven sonatas.
James MacMillan's 'Domine non secundum peccata nostra' from 'A Guardian Angel' with VOCES8
Future performances include Vivaldi Four Seasons and Bach Dynasty with Brecon Baroque and mezzo-soprano Ciara Hendrick, tours of A Guardian Angel with VOCES8, performances of Bach Cello Suites transposed for violin including a CD tour in the Netherlands, and two Vivaldi tours with the Orchestra of Age Enlightenment in East Asia and Luthers Bach Ensemble in the Netherlands.
Rachel has won numerous awards including two Baroque Instrumental Gramophone Awards for La Stravaganza (2003) and Biber Rosary Sonatas (2016), the Diapason d'Or de l'année in the Baroque Ensemble category for her recording of the La Cetra Vivaldi concertos (2012), two BBC Music Magazine awards in the instrumental category for Guardian Angel (2014) and the concerto category for the complete Vivaldi L'Estro Armonico concertos (2016).
Rachel is a dedicated educator and holds an honorary position at both the Royal Academy of Music and the Royal Welsh College of Music and Drama. She also has a relationship with The Juilliard School in New York.