Rachel Podger and Brecon Baroque join Percius
23 January 2013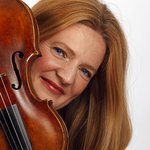 The Percius team are delighted to announce that internationally renowned Baroque violinist Rachel Podger and her ensemble Brecon Baroque have joined our roster.
Described as "Britain's finest period violinist" by BBC Music Magazine, Rachel has toured the world and appeared, as soloist or guest director, with most of the leading period orchestras including The Orchestra of the Age of Enlightenment, the Academy of Ancient Music, Tafelmusik, The European Union Baroque Orchestra and the Handel and Haydn Society. Rachel records exclusively for Channel Classics and has won numerous awards, including a Gramophone award and a Diapason d'Or de l'année, for her acclaimed interpretations of Vivaldi, Bach and Telemann.
Rachel teaches at institutions across the globe, is an honorary member of both the Royal Academy of Music and the Royal Welsh College of Music and Drama, and is Artistic Director of her own festival, the Brecon Baroque Festival.
Rachel founded Brecon Baroque in 2007 to specialise in the performance of music by J.S. Bach and his contemporaries. With a line-up of international period instrumentalists, the group has toured at home and abroad: the 2012-2013 season sees the ensemble performing in Germany, Holland, Poland, Ireland and Japan, as well as at various venues around the UK. The ensemble's recording of Bach's violin concertos, released on Channel Classics in 2010, was quickly hailed as a bench-mark recording of these works.
Percius looks forward to an exciting future working with Rachel and her talented group.
"The collective sense of style shown by Podger and her ensemble produces music making of inspiring vitality..."
International Record Review on Brecon Baroque
"It's such a cliché to describe a person as a ray of sunshine… Rachel Podger is living proof that clichés are based in reality."
Toronto Star on Rachel's performance with Tafelmusik.