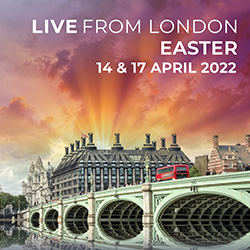 LIVE From London Easter
14 & 17 April 2022
"What if our departed loved ones are not truly gone, but are closer than we think?" (Charles Anthony Silvestri) As the calendar turns to resurrection and the hope beyond, LIVE From London presents two very personal pieces as its exclusive Easter meditation – both from the heart and pen of poet/lyricist Charles Anthony Silvestri.
'The Sacred Veil' by Eric Whitacre, performed by VOCES8, pianist Christopher Glynn, cellist Emma Denton and conducted by Eric himself is a last rite of love and friendship, exploring the journey of pain and loss through the words of the deceased (Julia Lawrence Silvestri), her husband (Charles Anthony) and their friend (Eric). Intimately filmed from The VOCES8 Centre and broadcast on Thursday 14 April, the much-awaited collaboration between choral superstars Eric Whitacre and VOCES8 will unveil a newly pared-down approach to the piece, lending it yet more immediacy and poignancy.
In contrast on Easter Day (Sunday 17 April), LIVE From London unveils Mårten Jansson's new work 'Requiem Novum'. As the tombstone is rolled away, Mårten's 'Response of Hope and Wonder' offers a comforting voice from beyond the veil. Charles Anthony Silvestri's poems are woven between the traditional movements of the Requiem Mass giving a new reading to its texts, whilst Mårten's expansive score evokes the beauty of sweeping Swedish landscapes just as much as the wonder of eternity. Celebrating the release of the world premiere recording by soprano Anna Dennis, The VOCES8 Foundation Choir and the Philharmonia Orchestra conducted by Barnaby Smith, the festival team welcomes you to enjoy the filmed performance from the recording sessions at All Hallows', Gospel Oak, London.
Hope is once again the underlying message of LIVE From London as it continues to support other artists, arts organisations, education, community and diversity work around the world.
"Here, on the other side of eternity,
There are no limits of thought,
Or dimensions, or understanding
For here, all is known,
All is revealed,
And all is infinite, perfect Love." (from 'Requiem Novum': text by Charles Anthony Silvestri)