I Fagiolini releases new Decca CD: 'Monteverdi: The Other Vespers'
28 April 2017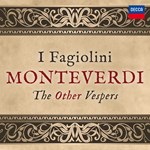 To mark Monteverdi's 450th birthday, and I Fagiolini's own 30th anniversary season, the acclaimed vocal ensemble releases a new album on Decca Classics.
'Monteverdi: The Other Vespers' is a Vespers setting crafted from Monteverdi's last publication, Selva morale e spirituale, placed alongside music by his Venetian contemporaries. Though the context and collection is new, the album features some of Monteverdi's more famous sacred settings such as Beatus vir and Laudate pueri incorporating I Fagiolini founder Robert Hollingworth's recent academic research. This recording reimagines the specific occasion that Monteverdi was seen moonlighting away from St Mark's, directing a Vespers for the Feast of St John the Baptist, in Venice on 24 June 1620.
The album also features the incredible soundworld of the mute cornetto alongside four male voices of I Fagiolini in Palestrina/Bovicelli Ave verum corpus – the first recording of such a reconstruction. The disc also includes Giovanni Gabrieli's powerful Magnificat in 14 parts: for three separate 'choirs' (instruments and voices). Gabrieli was first organist at St Mark's until his death in 1612 and he would have been very much in vogue in 1620 when this reconstruction is imagined.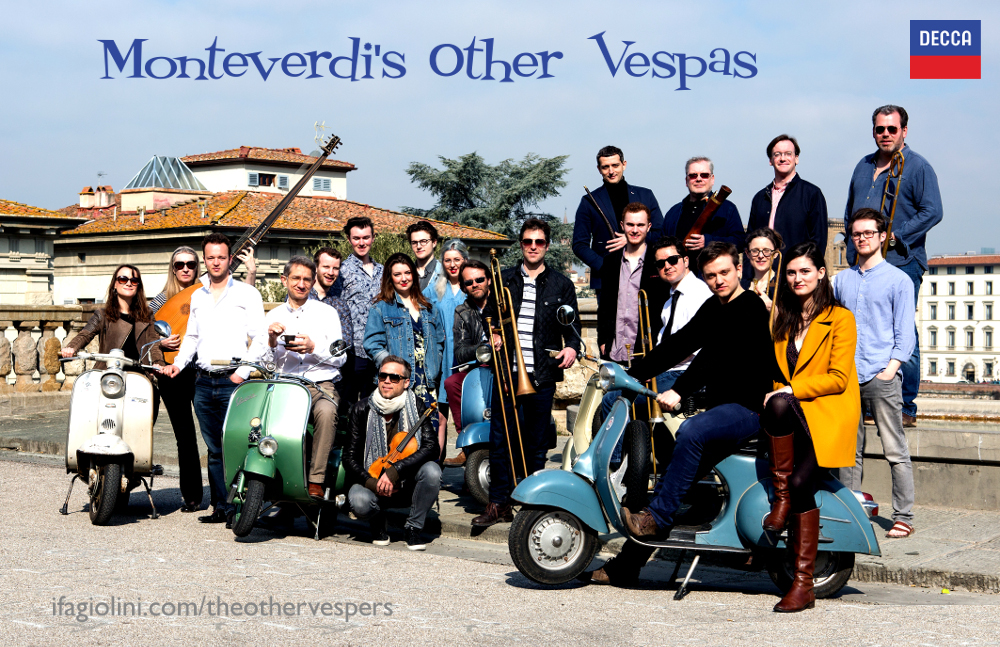 I Fagiolini is world-renowned for its performances of Monteverdi on stage, the concert platform and on screen: its 2007 film The Full Monteverdi (10th anniversary), and tours of the award-winning, immersive theatrical show, have been premiered across Europe, from Finland to Jerusalem, from South Africa to New York (Lincoln Center) and further afield to Australia, New Zealand and Asia. Decca's award-winning release of I Fagiolini's Striggio Mass in 40 Parts developed the considerable interest in this engaging group's concerts and recordings of Italian Renaissance repertoire. Building on this, 'Monteverdi: The Other Vespers' opens a new door into Monteverdi's soundworld.
As part of its year-long #Monteverdi450 celebrations, I Fagiolini is touring performances of L'Orfeo newly staged by Thomas Guthrie, concerts of The Other Vespers and is taking the 1610 Vespers to York Minster for a Monteverdi on the move extravaganza. Highlights include I Fagiolini performing Monteverdi at the BBC Proms on 17 July and at Edinburgh Festival on 19 August. Robert Hollingworth appears as part of BBC Radio 3's Monteverdi celebrations through 13-14 May. Robert also features in the May edition of Gramophone Magazine's Monteverdi anniversary focus, and the ensemble's performances (L'Orfeo, The Other Vespers, Monteverdi on the move) have been selected by the magazine in their 'best of' Monteverdi anniversary concerts to attend in Europe/USA.
If you'd like to find out more about 'Monteverdi: The Other Vespers', including 'behind-the-scenes' reports and some wonderful taster videos, please visit I Fagiolini's new microsite. To buy the CD click here. To check for upcoming concerts or to learn more about I Fagiolini please visit its website or follow the group on Twitter. If you would like to book I Fagiolini or have any queries please contact Libby Percival.