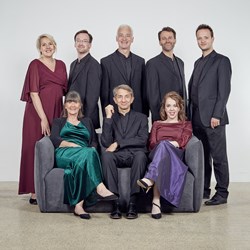 I Fagiolini's consort and solo singing are exemplary...
Gramophone
If there's a more enterprisingly theatrical vocal group than this one, I've yet to encounter it...
The Telegraph
skilful and imaginative...
Financial Times
I Fagiolini
Director: Robert Hollingworth
Grounded in the classics of Renaissance and Twentieth-century vocal repertoire, I Fagiolini is renowned for its innovative and often staged productions of this music. It has staged Handel with masks, Purcell with puppets, and in 2004 premiered The Full Monteverdi, a dramatised account of the composer's Fourth Book of Madrigals (1603) by John La Bouchardière, In 2006 I Fagiolini toured its South African collaboration Simunye and in 2009 created Tallis in Wonderland, a new way of hearing polyphony with live and recorded voices.
In 2012 I Fagiolini and C!RCA, an Australian contemporary circus company, launched How Like An Angel (HLAA) for the 2012 Cultural Olympiad and premiered as part of the Perth International Arts Festival. Betrayal: a polyphonic crime drama (a collaboration with John La Bouchardière) premiered at the Barbican in May 2015.
A year-long celebration of Monteverdi 450th anniversary in 2017 featured performances of Flaming Heart, 1610 Vespers, The Other Vespers, and L'Orfeo at venues including Glyndebourne, St John's Smith Square, Cadogan Hall for the BBC Proms and Queen's Hall as part of the Edinburgh International Festival. The celebrations continue in 2018 with a performance of L'Orfeo in Antwerp (AMUZ) and appearances at the Næstved Early Music Festival in Denmark.
I Fagiolini continue to create cutting-edge programmes in 2019 with Leonardo: Shaping the Invisible collaborating with Professor Martin Kemp, the leading expert on da Vinci. The programme and new recording will commemorate the 500th anniversary of Leonardo da Vinci's death and the 50th anniversary of more recent scientific endeavours, the first moon landing and Concorde's first flight.
I Fagiolini's latest recording on Decca Classics, Monteverdi: The Other Vespers, was released in 2017 to great acclaim and shortlisted for a Gramophone Award. Released in 2016, Amuse-Bouche (French Choral Delicacies) was CD of the Month for Gramophone Magazine and shortlisted for a Gramophone Award.