Helper & Protector: new CD from Eamonn Dougan & The Sixteen
29 April 2016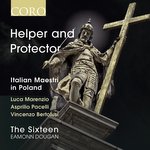 We're delighted to announce the release of conductor Eamonn Dougan and The Sixteen's fourth CD in their highly acclaimed series of Polish music. Released today Helper and Protector explores the music of Italian composers working in the Polish court during the reign of Sigismund III Vasa and includes the world premiere recording of Marenzio Missa super Iniquos odio habui the parts for which were feared lost after World War II.
In 1594 Sigismund III set about reorganising his music ensemble and he decided to bring in Italian musicians, singularly esteemed at that time, and in particular musicians associated with the music chapels of Rome. Amongst them were Luca Marenzio, Asprillo Pacelli, and Vincenzo Bertolusi; their arrival heralding a new dawn for sacred music in Poland. The centrepiece of this album is Marenzio's exquisite Missa super Iniquos odio habui. This is the premiere recording of the complete Mass which is set alongside the motet Iniquos odio habui on which it is based. The Kyrie and Gloria movements are known but the remaining parts of the Mass were appropriated by the Soviets after World War II and were only rediscovered after the fall of the Berlin Wall. Also included in the disc are Pacelli's joyous Beati estis and Bertolusi's sublime Ave verum corpus.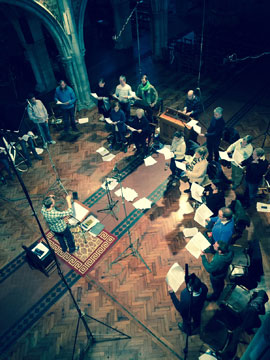 Praise for the first three discs in the series was effusive:
"This craftsman's masterful music is presented here with an assured charisma by the mighty Sixteen. Eamonn Dougan draws typically golden performances." Gramophone, Bartłomiej Pękiel (COR16110)
"The Sixteen luxuriate in textures and sonorities, offsetting serene, arching lines with more urgent declamatory passages...basses plummet while sopranos soar into the stratosphere in a swirl of all-embracing sound." 5* Performance, 5* Sound, BBC Music Magazine, The Blossoming Vine (COR16123)
"The latest in The Sixteen's fascinating Polish project... these performances are pristine, carefully blended and appositely devout in flavour." The Sunday Times, Grzegorz Gerwazy Gorczycki (COR16130)
All four discs in the Polish Baroque series can be purchased directly from Coro. To watch short videos of Dougan introducing the first two discs visit his client page. For further news follow Eamonn Dougan on Twitter.