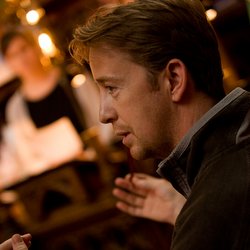 Eamonn Dougan conducted the Britten Sinfonia and Britten Sinfonia Voices in a radiant performance.
Richard Morrison, The Times
liquid vocal lines pliantly shaped here by conductor Eamonn Dougan.
BBC Music Magazine
Eamonn Dougan was such an inspiration with our singers last year that we had to get him back...
Sir James MacMillan
Eamonn Dougan
Conductor
http://www.thesixteen.com/eamonn
Eamonn Dougan is an inspirational director and renowned baritone. Eamonn read music at New College, Oxford, before continuing his vocal and conducting studies at the Guildhall School of Music and Drama. Informed by his singing, Eamonn is an engaging communicator with a particular passion for Bach, the French Baroque and Twentieth Century English repertoire including MacMillan.
Eamonn has directed many orchestras and choirs throughout the years including BBC Singers, Accentus (Paris), Opera Rara, Trondheim Barokk, Wroclaw Philharmonic Choir (Poland), the Orchestra of the Age of Enlightenment, The Hallé, and Coro de la Comunidad (Madrid). He has conducted Stravinsky Symphony of Psalms at the St. Endellion Festival, Mozart Requiem and Haydn Nelson Mass with Huddersfield Choral Society and the Royal Northern Sinfonia, Handel Coronation Anthems at the Oundle International Festival and Handel Messiah tours with Irish Baroque Orchestra and Britten Sinfonia. He has also assisted various conductors including Martyn Brabbins, Andreas Delfs, Adam Fischer and Sir Mark Elder. He also curated a weekend of excessively good taste (French Baroque) at Kings Place in 2016.
Martyn Brabbins writes "Eamonn Dougan is fast emerging as a leading conductor of the younger generation. He has vast experience as a solo singer, a chorus conductor and as a highly respected member of the London professional choir scene, and, is rapidly developing his profile as an orchestral conductor.
Eamonn is a musician of great integrity, and sets himself, and those with whom he works the very highest standards of execution, and he delivers performances of energy, vitality and vision. I am confident Eamonn Dougan will establish himself as a British conductor of note in the coming years."
He is developing a close relationship with Sir James MacMillan and the Cumnock Tryst Festival. Since its inception, he has conducted the festival chorus in works including Fauré Requiem and MacDowell Stabat Mater. Eamonn will return to the festival in 2017 and 2018.
Eamonn is Associate Conductor of the world-renowned vocal ensemble The Sixteen and has directed the group to considerable acclaim. Engagements have included performances in France, Spain, Belgium and on The Sixteen's annual Choral Pilgrimage in the UK. He is also involved in their extensive education programme - Genesis Sixteen.
Eamonn has a highly successful five-disc Polish Baroque series with The Sixteen. The first disc, music by Bartlomiej Pekiel was met with widespread critical acclaim and was shortlisted for a Gramophone Award ('Richly dramatic' – The Observer; 'A delightful performance' – BBC Music Magazine). Subsequent discs in the series include The Blossoming Vine, music by Gorczycki, and Helper and Protector. The fifth disc, music by Mielczewski, will be released in 2017.
The Sixteen - The Blossoming Vine from Culture.pl on Vimeo.
Eamonn is also the founding Director of Britten Sinfonia Voices, with whom he has conducted several world premieres including Tavener Flood of Beauty, Esenvalds Aqua, Nico Muhly Looking Forward for the Britten Sinfonia's 20th birthday and the choral premiere of Jóhann Jóhannsson Orphée at the Barbican. Other projects with the Britten Sinfonia have included Bach St John Passion, MacMillan St Luke Passion and Seven Last Words, Britten Curlew River, Birtwistle Yan Tan Tethera, and Possibly Colliding: Session Six.
In 2008 Eamonn was appointed a Visiting Professor to the Guildhall School of Music and Drama, London where he teaches ensemble singing and directs the Guildhall Consort. He is also the Music Director for the Thomas Tallis Society and Associate Conductor for the London Youth Choir where his passion for choral training continues to be visible.
Upcoming conducting engagements include Bach St John Passion with Britten Sinfonia, Mozart La finta giardiniera (Ryedale), Cappella Caeciliana (Belfast), Bach Magnificat with The Sixteen, a return to Corinthian Chamber Orchestra, an Accentus tour (Paris), Lacock, ORCAM (Spain), BBC Singers, and performances with Thomas Tallis Society.