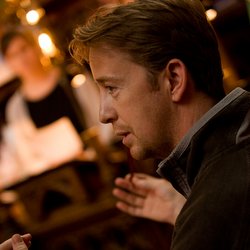 Eamonn Dougan conducted the Britten Sinfonia and Britten Sinfonia Voices in a radiant performance.
Richard Morrison, The Times
liquid vocal lines pliantly shaped here by conductor Eamonn Dougan.
BBC Music Magazine
Eamonn Dougan was such an inspiration with our singers last year that we had to get him back...
Sir James MacMillan
Eamonn Dougan
Conductor
http://www.thesixteen.com/eamonn
Eamonn Dougan is an inspirational conductor and renowned baritone. He is Associate Conductor of The Sixteen and founding Director of Britten Sinfonia Voices. Eamonn is an engaging communicator with a particular passion for Bach, the French Baroque and Sixteenth and Twentieth Century repertoire.
Forthcoming conducting engagements include his debut with the Danish National VokalEnsemblet and return visits to work with the KoncertKor and Danish National Symphony Orchestra as well as ORCAM, the Jersey and Corinthian chamber orchestras and chamber opera for Ryedale Festival. Further collaborations with violinist Harriet McKenzie include a specially curated programme, 'Sun, Moon and Sky', for Salisbury Festival.
Eamonn recently conducted the world premiere of James MacMillan All the Hills and Vales Along at the Cumnock Tryst Festival "Eamonn Dougan conducted a moving, tight-knit performance" (Scotsman), Messiah with Orquesta Sinfónica de Castilla y León and Capella Amsterdam, and made his Paris debut at the La Seine Musicale with renowned ensemble Accentus.
Eamonn has a highly successful five-disc Polish Baroque series with The Sixteen. The first disc, music by Bartlomiej Pekiel, was shortlisted for a Gramophone Award ('Richly dramatic' – The Observer). The fifth disc, music by Marcin Mielczewski, was released to widespread critical acclaim in September 2017.
In 2008 Eamonn was appointed a Visiting Professor to the Guildhall School of Music and Drama, London, where he teaches ensemble singing and directs the Guildhall Consort.