Eamonn Dougan kicks off his season with a new CD release and touring
27 September 2017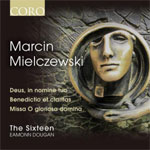 Friday 29 September heralds the fifth release in Eamonn Dougan's varied and critically-acclaimed Polish Baroque series with The Sixteen featuring the music of Marcin Mielczewski on the CORO label. Together with Bartłomiej Pękiel, Mielczewski was amongst the most notable of 17th-century Polish composers and was recognised as a leader among his contemporaries. Influenced by the many Italian composers who graced the Polish courts in the 1600s, Mielczewski was prolific.
Eamonn is passionate about bringing a wider audience to this enchanting 17th century Polish repertoire and you can watch him in discussion about the disc and glimpse 'Behind the scenes' in this short video:
Praise for the series
"This craftsman's masterful music is presented here with an assured charisma by the mighty Sixteen. Eamonn Dougan draws typically golden performances."
Gramophone - Bartłomiej Pękiel (COR16110)
"The Sixteen luxuriate in its textures and sonorities, offsetting serene, arching lines with more urgent, declamatory passages."
Performance ***** Recording ***** BBC Music Magazine Choice - The Blossoming Vine (COR16123)
"The latest in The Sixteen's fascinating Polish project... these performances are pristine, carefully blended and appositely devout in flavour."
The Sunday Times - Grzegorz Gerwazy Gorczycki (COR16130)
Eamonn's busy summer at the Ryedale Festival, conducting Nina Brazier's 'La finta giardinera' with the Orchestra of the Age of Enlightenment Experience Ensemble, concluded in September as the show toured on to Scotland. Highlights of the coming season include a return tour with Accentus through France, a return to the BBC Singers, and a special concert conducting his own Britten Sinfonia Voices as part of the Barbican's Esa-Pekka Salonen celebrations featuring works by Stravinsky and Mozart. Eamonn's next engagement at the Cumnock Tryst Festival features Mozart's majestic Coronation Mass, before he returns to conduct Mozart Requiem with his own Thomas Tallis Society. Later this autumn Eamonn embarks on an exciting tour of Belgium with The Sixteen including a new commission written especially for the trip by Thomas Hyde.
If you'd like to purchase Marcin Mielczewski, or any other CDs in the series please visit CORO. If you'd like to book Eamonn please contact Libby Percival. Keep up-to-date with Eamonn's latest news on Twitter.