Eamonn Dougan conducts the world première of Eriks Esenvalds' AQUA
12 February 2013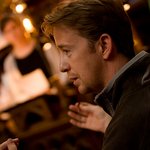 Eamonn Dougan conducts the world première of Ēriks Ešenvalds' AQUA in a series of concerts with the Britten Sinfonia and Britten Sinfonia Voices.
The piece will feature in Britten Sinfonia's 'Baltic Nights' project with concerts in Cambridge (West Road, 25 February), London (Barbican, 27 February) and Norwich (Theatre Royal, 3 March). Dougan will also conduct the ensemble in Perotin's Viderunt omnes and Bach's Komm Jesu, komm in a programme which also features acclaimed violinist Alina Ibrigamova performing violin concertos by Bach and Vasks.
Ēriks Ešenvalds' AQUA is written for choir, strings and water glasses (!) which are played by the singers.
For more information and how to book tickets click here.