Liebeck - Life through a Lens
23 April 2018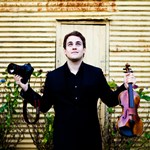 Discussing his life as a festival director, soloist and photographer, Jack appears as guest editor for the May edition of Classical Music Magazine. Exploring the many facets of his creative life, he also talks about his love of science and art ahead of his own Oxford May Music Festival (3-7 May).
Jack's guest editorship of the May edition of Classical Music Magazine includes interviews with Professors Brian Cox, Brian Foster and Robert Winston about their views on the links between science and music, as well as articles on how to keep healthy as a professional musician with a demanding schedule, and features several of Jack's celebrated portrait photographs over the last few years. The May edition of Classical Music Magazine is available on Friday 27 April and can be read online here.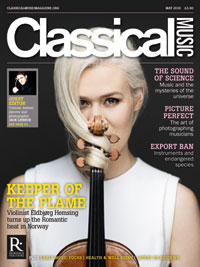 A thoughtful and creative programmer, Jack's eleventh Oxford May Music Festival opens on 3 May 2018. The festival features an exhibition of folios and gouaches created by George Nama in response to Alfred Brendel's poetry, and looks at our place in a changing world with topics such as 'Managing the Global Land Resource' and 'Half Lives: Scientists, Spies, and a Musical Mole'. This alongside scientific guests and artists such as Craig Ogden, James Baillieu, Julian Bliss and Ailish Tynan.
Behind the scenes, Jack continues his creative programming work as Artistic Director of the Humboldt Science & Music Festival in Hamburg for 2018/19, at which he performed extensively in the Laeiszhalle during the 2017/18 season. Jack has an annual festival in the beautiful setting of Grindelwald, Alpine Classics. He continues to perform as a soloist, 'play director' and chamber musician across the world alongside his role as professor of violin at the Royal Academy of Music, and upcoming projects include a collaboration with Melbourne Symphony amongst others.
You can next hear Jack as a soloist performing Mendelssohn's Violin Concerto with the Royal Philharmonic Orchestra at Dorking Halls on 8 June. If you want to purchase his acclaimed Bruch series on Hyperion visit the label's own website.
For more information about Jack Liebeck please visit his website or click here; you can also follow him on Twitter. To book Jack, or to talk about ideas, please call Libby Percival or Laura Baker.