Jack Liebeck joins Percius
30 January 2017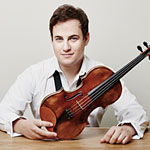 Having worked closely with Trio Dali over recent seasons, Percius is now delighted to welcome Jack Liebeck for worldwide management.
Possessing flawless technical mastery and a "beguiling silvery tone" (BBC Music Magazine), violinist Jack Liebeck's playing embraces the worlds of elegant chamber-chic Mozart through to the impassioned mastery required to frame Brett Dean The Lost Art of Letter Writing. Jack's fascination with all things scientific has included performing the world premiere of Dario Marianelli Voyager Violin Concerto and collaborations with Professor Brian Cox.
Celebrating its tenth anniversary with a stellar line-up of artists, Jack's own annual festival Oxford May Music profiles the themes of music, science and the arts. The 2017 festival programme has just been launched and is now viewable online. Tickets can be purchased from the website.
A professional photographer, Jack loves film and can be heard on the soundtracks of The Theory of Everything, Jane Eyre and Anna Karenina. He is a dedicated educator holding a professorship at the Royal Academy of Music – tips include "sing your way to string perfection" (The Strad). Jack is also a member of Trio Dali "virtuosic brio…this is a group to watch" (The Australian).
Jack's final CD in his Bruch concerto series for Hyperion Records was released this New Year and has received much critical acclaim "His playing is virtually flawless in its technical ease, scintillating articulateness and purity of tone" (Gramophone Magazine).
"I have long admired Jack's virtuosity, his broad artistic overview and his adventurous programming and projects. It has been a pleasure to work with him for Trio Dali and the team is thrilled to have the opportunity of progressing his solo career." Libby Percival
For more information about Jack Liebeck please visit his website or click here: you can also follow him on Twitter. If you'd like to book Jack please call Libby Percival.