I Fagiolini and Circa: How Like An Angel flies again
28 February 2013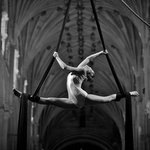 The hit show from the London 2012 Festival – How Like An Angel – returns in Summer 2013 and will tour to four locations including London, Brighton and Norwich.
How Like An Angel, commissioned by London 2012, premièred in Perth in February 2012 and went on to tour four UK cathedrals during the London 2012 Festival to rave reviews. The show fuses Circa's exhilarating brand of contemporary circus with I Fagiolini's celestial singing and awe-inspiring architecture, How Like An Angel showcases four magnificent churches across the country.
To book tickets visit:
All Saints Church, Brighton (tickets on sale to general public on 8 March), 7-10 May: http://brightonfestival.org/event/355/how_like_an_angel/
Norwich Cathedral, 14-17 May: http://www.nnfestival.org.uk/festival/early_shows/how-like-an-angel1
St Barts the Great, London, 25-28 June: https://www.barbican.org.uk/theatre/event-detail.asp?ID=14384
More dates announced shortly.
"A match made in heaven"
The Australian