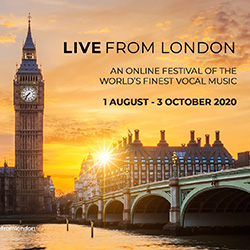 Be prepared to be blown away by VOCES8's online choral festival...
The Telegraph
It has been a lovely way of connecting with colleagues in other groups, and supporting one another through this current crisis.
Stile Antico
LIVE From London Summer
1 August - 3 October 2020
https://voces8.foundation/livefromlondon
LIVE From London – a festival of the world's finest vocal music, broadcast live from VOCES8's stunning church in the heart of the city and from venues across the world.
Over 40,000 digital seats sold
Watched in 62 countries
18+ hours of content
128 pieces of music
The VOCES8 Foundation's first online festival featured some of the world's finest vocal ensembles including VOCES8, I Fagiolini, The Swingles, Stile Antico, The Gesualdo Six, Apollo5, The Sixteen, Chanticleer, and a special guest appearance by The Academy of Ancient Music.
Prior to the festival, the line-up of artists had never appeared together in the same festival and was the first time many of the groups had performed since the start of lockdown in March 2020:
"After six months apart, it is quite simply a momentous occasion for The Sixteen to be reunited again for this concert. We are delighted to be a part of Live from London" (Harry Christophers)
These award-winning ensembles brought together their favourite works and pieces for which they've become renowned, singing repertoire from the Renaissance to contemporary A Cappella — a veritable 'transport of delight' from the superb acoustic of Sir Christopher Wren's St Anne and St Agnes Church in the heart of the City of London. The festival was broadcast online, every Saturday, for ten weeks from the 1st of August and gave a worldwide audience the opportunity to reconnect with live choral music.
"Not only did it give us the chance to make music together again, but it gave us a focus and a rekindling of energy for the future of our art." Chanticleer
Libby Percival is co-manager for LIVE From London festivals and Percius is a consultant for The VOCES8 Foundation.